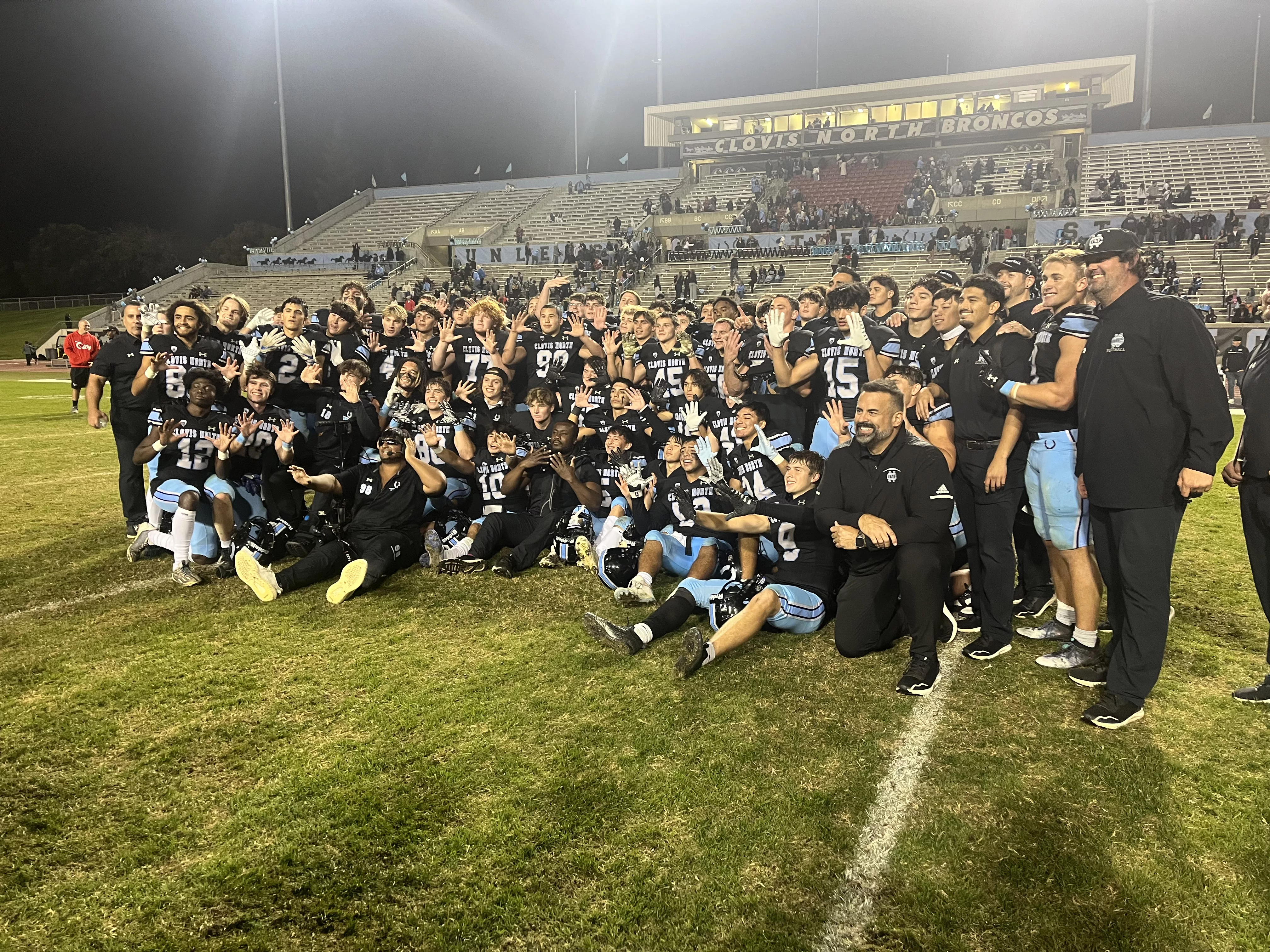 The Clovis North football team holds up 10 fingers after beating Central, one for each win they've earned this season.
By Gabe Camarillo
Jackson Cinfel looked like he just wrangled in a street fight – and won.
Below his lip, a cut. His helmet was grabbed and twisted and sliced his face. Nothing new for the Clovis North running back who quickly mentions he has been bloodied before.
It was the only damage that Central inflicted on Cinfel, the muscular 5-10, 190-pound junior who carved up the Grizzlies for 199 rushing yards on 33 carries.
Wait, who hurt who, again?
Yet to label Clovis North's 27-20 TRAC-clinching win over Central as the result of one player would be shortsighted. The Broncos, all season long, have worked collectively.
"Running backs, we get all the glory, but we don't do all the work," admitted Cinfel.
Late in the fourth quarter, the Broncos needed five yards on third down, clinging to a touchdown lead, and right guard Davit Boyajyan showed why Washington sought the 305-pounder's services. He opened the hole that Andrew Chavez burst through to move the chains.
On the next play, Chavez reached the one-yard line before he twisted, contorted and summoned every ounce of his strength to reach across the goal line and put Clovis North up two touchdowns with 1:19 left.
The senior running back (10 carries, 61 yards) said he told himself, "Just keep driving. Just keep going."
For Clovis North, the first-half game plan was simple – just keep running.
Cinfel returned the opening kickoff 30 yards, then carried the ball three times for 40 more, before junior McKay Madsen scored on a four-yard touchdown plunge. Madsen ended the night with 10 carries for 49 yards.
After Central punted, Clovis North scored again, from 26 yards out on Cinfel's legs.
The Grizzlies, to their credit, never backed down despite trailing the entire evening. They responded with a 15-play, 80-yard drive that resulted in Noel Felix III grabbing a one-handed, 14-yard touchdown pass from David Marquez.
But the Broncos' stampede continued. 14 consecutive runs later, Cinfel scored his second touchdown to increase the halftime lead, 20-6
Marquez started the second half firing, hitting Felix III and Daylon Scott for big gains, and he cut the deficit in half on a one-yard touchdown sneak.
The senior Marquez, who made his third career start after taking over in the middle of TRAC play, completed 16 of 26 attempts for 185 yards and two touchdowns to one interception, made by Bronco linebacker Brayden Bitter.
Central's defense stiffened in the second half and did not surrender the long runs they did before. That, along with untimely penalties, stifled the Broncos' rushing attack momentarily.
It was time for defense to rise to the occasion.
"If one side is struggling, the other side seems to pick it up," said Clovis North head coach Michael Jacot. "Our guys have done that all year. That's a credit to the belief in each other. We practice separately; we're a two-platoon team. I don't think you would know it, by the way we communicate with each other."
The Broncos made a fourth-down stop inside their own 25-yard line as Marquez' pass soared beyond the reach of his top receiver Braylen Hall.
Later, after Clovis North turned it over on downs, back-to-back crushing hits jarred the ball loose on would-be catches, forcing Central to punt.
From there, the Broncos resumed running, as they did on 54 of 59 offensive plays Thursday night, and eventually punched in the game-sealing score.
Central scored in the final minute but could not recover the ensuing onside kick.
With the victory, Clovis North (10-0, 5-0 TRAC) wrapped up its first perfect regular season since the school opened in 2007. It clinched the Broncos' first outright league title since 2014.
Ranked No. 9 in the state by CalPreps.com, they will undoubtedly be the top seed in the Central Section Division I playoffs. Central (7-3, 3-2 TRAC) is currently positioned for a first-round bye.
The fifth-year head coach Jacot is enjoying the fruits of his laborious rebuild, which included a low during the 2021 COVID season when three different quarterbacks transferred out and several key players left the team.
"What's exciting for me more than anything is I've [rebuilt] where I've been, taking programs that have gone astray and got them back on track, but not being around to reap some of the rewards of it," said Jacot. "To be able to see this thing through with where we're at right now, it's exciting.
"We've got bigger goals obviously."