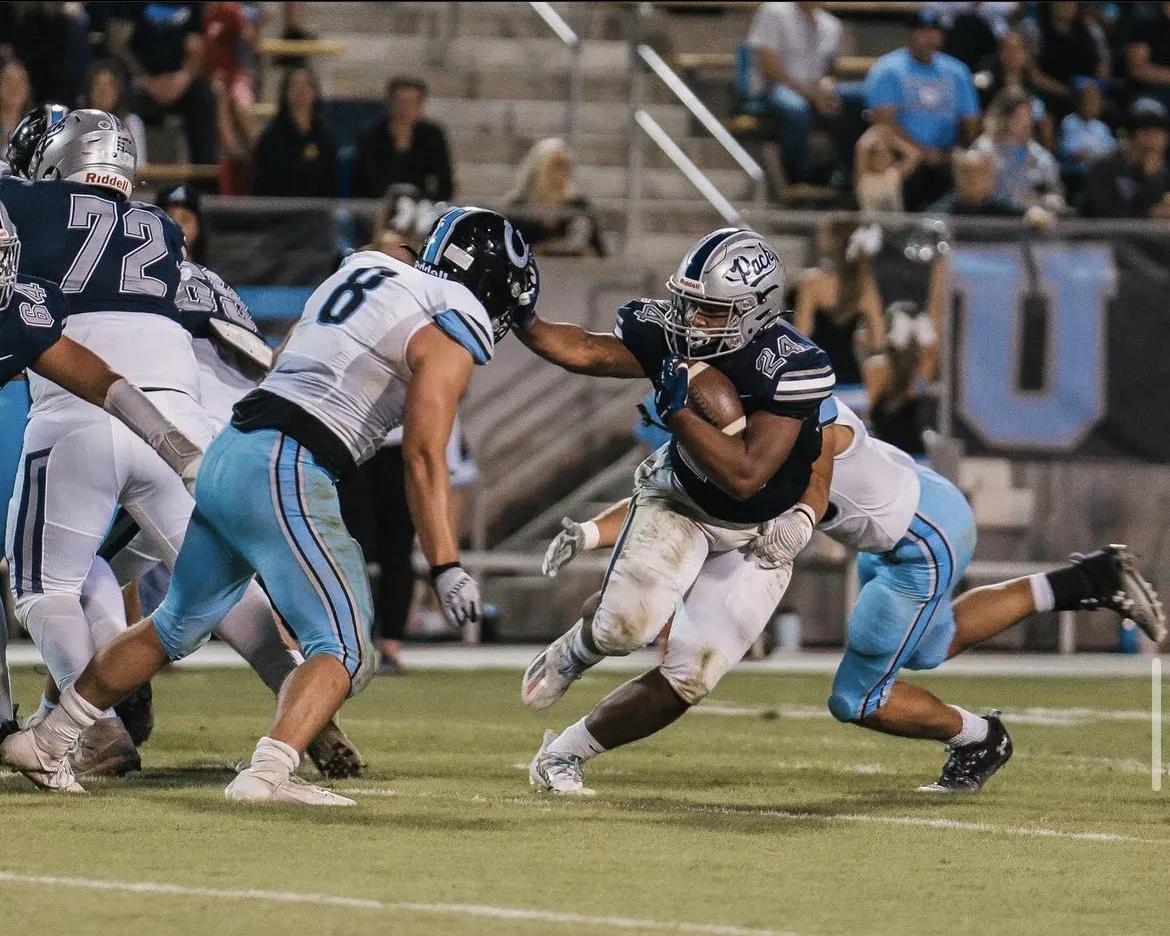 (Photo courtesy of David Carrizales)
By Gabe Camarillo
This is about as close to an accurate read on the playoffs as you'll get because everything is included — tiebreakers, byes, and teams that are expected to qualify, as well as those that won't.
Under the new playoff system that uses CalPreps.com computer ratings to place teams in divisions and seed them, you could know where your team is headed before next Saturday.
This article does the work for you, combing through the latest up-to-date Central Section rankings on CalPreps.com and placing them in order, Division I through Division VI.
Two changes to this week's batch of playoff projections:
1. We have introduced first-round byes into the projections, because CIF Central Section commissioner Ryan Tos has stated the goal for Division II through Division VI is to have as close to even brackets as possible. Due to a shortage of qualified teams, first-round byes are necessary to make this happen.
2. We are projecting which 2-6 teams will win their third game and qualify, and which will not. These teams are indicated by a star (*).
Five things to know before you read the ESPN Fresno Week 10 high school football playoff projections.
1. First, a refresher — teams can move up and down one division from their base. The base divisions can be found here: https://cifcs.org/sports/CS_FB_Divisions.pdf
2. Teams can ask to move up a division, but they cannot ask to move down from the division they're placed in. There will be 12 teams in Division I unless a lower-ranked and qualifying team asks to be placed in the top division.
3. The order of teams is based on the CalPreps.com computers, base divisions, and tiebreakers — nothing else. The Central Section will use CalPreps.com to rank the teams in the brackets, not human opinion. The team order in these projections will be void of human opinion as well.
Having said that, some opinion was given when deciding who would win their third game to qualify and who would not. This was done to create the most accurate possible projections out there, because the reality is that there are 2-6 teams that "qualify" right now but will not if they lose the final two. We also explain below what would happen if the teams we projected to win fall short.
4. The new rule this year for tiebreakers: it's no longer when teams are within two rating points but within three seeding places. Whether it's on the CalPreps.com website or in the bracket, if teams are within three seeds of each other, then tiebreakers like head-to-head, league record, and record against common opponents come into play.
5. Lastly, teams must win at least three games to qualify for playoffs.
For full transparency, here is the link to the CalPreps rankings (click under 'Central Section'):
http://www.calpreps.com/2023/ratings/
PROJECTED BRACKETS UPDATED AS OF 10/16/23, 9:00 A.M. PST
Division I:
9 Hanford at 8 Frontier (winner at No. 1 Clovis North)
12 Garces at 5 Central (winner at No. 4 Clovis)
11 St. Joseph at 6 Clovis East (winner at No. 3 Sanger)
10 Arroyo Grande at 7 Clovis West (winner at No. 2 Liberty)
Clovis North
Liberty
Sanger
Clovis
Central
Clovis East
Clovis West
Frontier
Hanford
Arroyo Grande
St. Joseph
Garces
Clovis is above Clovis West right now because of league record (2-1 vs. 1-2), and Sanger must be above Clovis because of head-to-head. Clovis East is No. 2 in the CalPreps ratings, but Liberty takes the No. 2 spot in the bracket because they beat Central, which beat Clovis East.
Tiebreakers get messy with No. 3 – 6 because Clovis East beat Sanger, which beat Clovis, which beat Central, which beat Clovis East. It's unfair to put any of those teams at No. 6 because it means a team they beat head-to-head is above them.
We have Clovis East in that No. 6 spot for this projection, but if they beat Clovis High, then it'll look like:
Central

Clovis East 

Sanger

Clovis
But if Clovis West beats Central on Thursday? Then everything gets confusing again.
Division II:
BYE 1 Central Valley Christian
9 Bakersfield at 8 Bakersfield Christian
12 San Luis Obispo at 5 Tulare Union
13 Madera at 4 Redwood
11 Lompoc at 6 Kingsburg
14 San Joaquin Memorial at 3 Centennial
10 Sunnyside at 7 Tehachapi
BYE 2 Lemoore
Central Valley Christian
Lemoore
Centennial
Redwood
Tulare Union
Kingsburg
Tehachapi
Bakersfield Christian
Bakersfield
Sunnyside
Lompoc
San Luis Obispo
Madera
San Joaquin Memorial
Last year, Division II had three first-round byes! This year, we think the bracket gets two, maybe one if Bullard qualifies. Seeds 4 – 6 are determined by head-to-head tiebreakers: Redwood beat Tulare Union, which beat Kingsburg.
Madera beat San Joaquin Memorial, so the Coyotes must be seeded higher. San Luis Obispo was already rated higher than Madera. Buchanan and Bullard will be included in the playoff picture once they qualify with their third win; Buchanan faces Clovis North and Clovis East, and Bullard faces Sanger and Edison.
If Bullard qualifies by beating Edison (they'll be favored in that game), then they would face Lemoore as the No. 15 seed. Even if they qualify, Bullard might opt out of playoffs like they did last year. 
Division III:
16 Paso Robles at 1 Mission Prep
9 Pioneer Valley at 8 Kerman
12 Porterville at 5 Dinuba
13 Independence at 4 Kennedy
11 Golden West at 6 Washington Union
14 Stockdale at 3 Mission Oak
10 Mt. Whitney at 7 Garza
15 Templeton at 2 Atascadero
Mission Prep
Atascadero
Mission Oak
Kennedy
Dinuba
Washington Union
Garza
Kerman
Pioneer Valley
Mt. Whitney
Golden West*
Porterville 
Independence
Stockdale
Templeton
Paso Robles*
Tulare Western would host a playoff game if they win their third game, but they'll be underdogs against Lemoore and Tulare Union. We are not projecting them in the playoffs right now.
We think the starred teams Golden West (hosting Redwood and El Diamante) and Paso Robles (at Nipomo and Arroyo Grande) will win at least once to qualify for the playoffs. If either of them loses twice, then we think the bracket would change to give Mission Prep a BYE. No new teams would be added. Division III had one first-round bye last year.
Washington Union is seeded ahead of Garza because the Panthers beat Coalinga, which beat Garza… Porterville and Independence beat Highland, which beat Stockdale, so both won the seeding tiebreaker over Stockdale.
Division IV: 
16 South at 1 Shafter
9 Sierra Pacific at 8 Golden Valley
12 Santa Maria at 5 Torres
13 Liberty (Madera) at 4 Coalinga
11 Morro Bay at 6 Caruthers
14 Nipomo at 3 Exeter
10 Highland at 7 McLane
15 Chowchilla at 2 Dos Palos
Shafter
Dos Palos 
Exeter
Coalinga
Torres
Caruthers
McLane
Golden Valley
Sierra Pacific
Highland*
Morro Bay
Santa Maria
Liberty (Madera)
Nipomo*
Chowchilla
South Bakersfield
Exeter beat Washington Union, which beat Coalinga, so the Monarchs must be seeded higher. Dos Palos was already rated higher than Exeter, so why would the Broncos drop below them in the seedings with no tiebreaker? If Coalinga beats Dos Palos, Exeter would be the No. 2 seed if they beat Sierra Pacific on Friday.
Nipomo is starred because they are one win away from postseason play. Their remaining schedule: vs. Paso Robles, and at Righetti. For now, we are projecting they win one of those games. Highland hosts Bakersfield Christian and Ridgeview, and we think they win once.
But if Highland and/or Nipomo don't win, then we don't think new teams will be added from Division V. Shafter (and possibly the No. 2 seed) would earn a first-round bye, and the bracket would adjust accordingly. 
Division V:
BYE 1 Bishop
9 Delano at 8 Immanuel
12 Boron at 5 Santa Ynez
13 Strathmore at 4 Roosevelt
11 Corcoran at 6 Chavez
14 Taft at 3 Wasco
10 Arvin at 7 Mendota
15 North at 2 Orosi
Bishop
Orosi
Wasco
Roosevelt
Santa Ynez
Chavez
Mendota
Immanuel
Delano
Arvin
Corcoran
Boron
Strathmore
Taft
North Bakersfield*
Mendota beat Immanuel, so the Aztecs must be seeded higher. Chavez was already rated higher than Mendota. Delano beat Golden Valley, which beat Arvin.
North must beat East or South to qualify for the playoffs. We believe they win once, so they are included in the projections. If they lose twice, then Orosi would earn a first-round bye OR Sanger West would be added as the No. 15 seed. The Hornets have qualified for the postseason.
Division VI:
BYE 1 Firebaugh
9 Riverdale at 8 Lindsay
12 Foothill at 5 Avenal
13 Tranquility at 4 Orange Cove
11 Kern Valley at 6 Minarets
BYE 3 Fowler
10 Yosemite at 7 Rosamond
BYE 2 Woodlake
Firebaugh
Woodlake
Fowler
Orange Cove
Avenal
Minarets
Rosamond
Lindsay
Riverdale*
Yosemite*
Kern Valley
Foothill
Tranquility
Three first-round byes are not unprecedented! Division II had three last year.
Riverdale needs to beat either Liberty (Madera) or Parlier to make the playoffs. Yosemite must win against Fowler or Minarets. If either Riverdale or Yosemite falls short, a team from the bottom of Division V will drop to VI to keep the brackets relatively close to even.