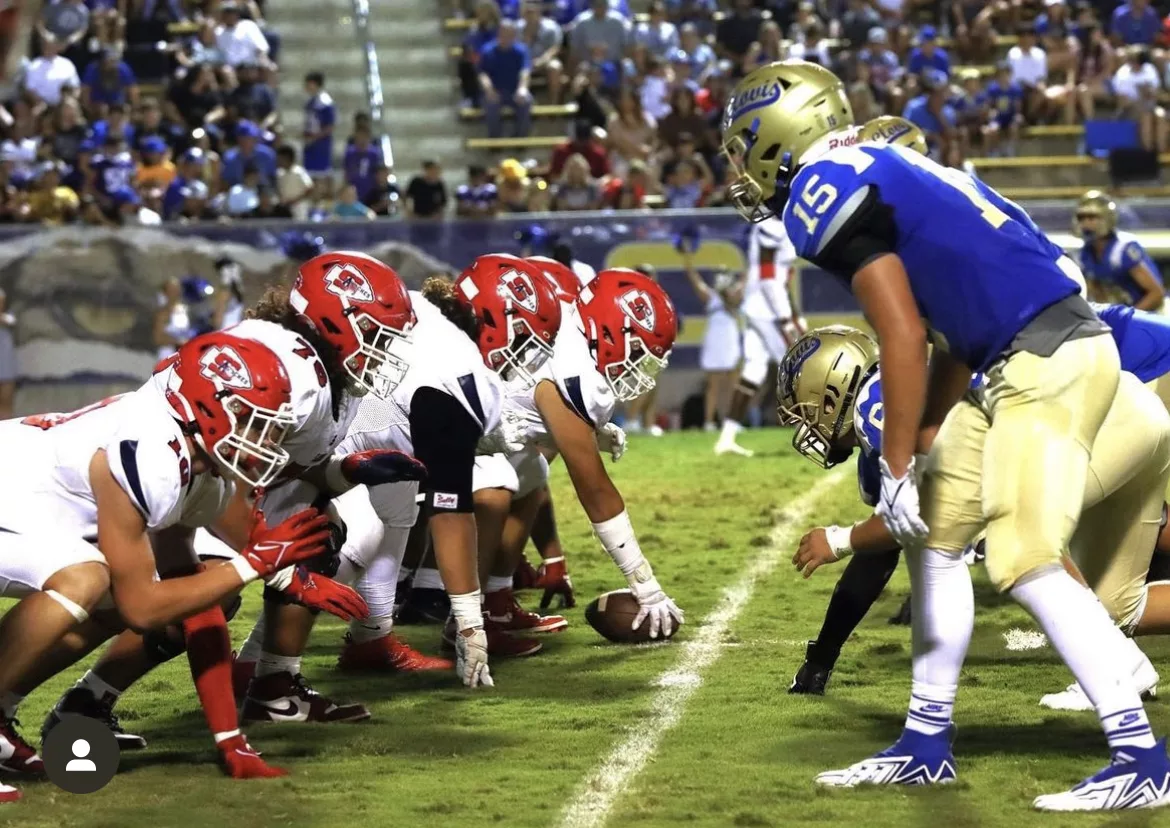 (Photo: The Sanger Scene)
By Gabe Camarillo
gcamarillo@1430espnfresno.com
High school football is approaching the midseason mark in the Central Section. Most teams have played five games, while others enjoyed an early bye week; those schools will play their fifth game next week. There have already been several games with significant outcomes. League title races have shifted, contenders have emerged, and multiple programs have shined in breakout starts to the season.
The question is when it comes to playoffs, how good is too good?
Sanger has broken through. The Apaches started 1-4 last season, but now they are 4-1 with wins over Clovis and Centennial, both of whom competed in Division I last fall. Sanger has participated in the Division I postseason before, most recently in 2017 and 2018, but went 0-2 in those appearances. On the other hand, the Apaches have won four Division II Central Section championships since 1998.
Should they play where they've had a track record of success, or should they challenge themselves since they've proven themselves capable of beating last year's Division I competition? That's the debate.
The McLane Highlanders, another great example of year-to-year improvement, have struggled in Division IV in recent years. Since Andrew Pancotti took over as head coach, McLane made the Division V playoffs in back-to-back seasons. Although they lost, the Highlanders were more competitive in those playoff games.
McLane has looked impressive in its 3-1 start, and this could be the year the Highlanders win their first playoff football game in over two decades. They could host a playoff game at McLane Stadium in Division V, where they are based, but because of their hot start, the CalPreps.com computers have them in Division IV. This could change with six games left to play, but the fact remains — McLane will have to lose a lot to drop down to Division V.
Should McLane face stiffer competition in Division IV due to early success, or should they be placed in Division V — where they lost competitive games the past two postseasons — and earn Division IV status with a long playoff run in a lower division? That's the debate.
You will find where every postseason-eligible team is currently placed here. The CalPreps.com computers will update their ratings weekly, and these will determine which division teams play in and who they play. Five things to know before you read the ESPN Fresno midseason high school football playoff projections.
1. First, a refresher — teams can move up and down one division from their base. The base divisions can be found here: https://cifcs.org/sports/CS_FB_Divisions.pdf
2. Teams can ask to move up a division, but they cannot ask to move down from the division they're placed in. There will be 12 teams in Division I unless a lower-ranked team asks to be placed in the top division.
3. The projections are strictly based on the CalPreps.com computers, base divisions, and tiebreakers — nothing else. The Central Section will use CalPreps.com when they make the brackets in November and not human opinion. So, these projections — not predictions — will be void of human opinion as well.
4. I added tiebreakers when teams are within two rating points, like results head-to-head and against common opponents, because that's how the Central Section will do it when making the brackets, too.
5. Lastly, teams must win at least three games to qualify for playoffs.
(number in parentheses = CalPreps rating)
Italics = currently winless
Division I
Clovis North (48.4)

Clovis East (43.1)

Liberty-Bakersfield (42.6)

Clovis West (28.8)

Central (28.3)

Sanger (28.2)

Frontier (24.5)

Buchanan (22.3)

St. Joseph (22.1)

Clovis (19.9)

Hanford (11.8)

Arroyo Grande (9.3)
Division II:
Central Valley Christian (22.2)

Kingsburg (14)

Lemoore (10.6)

Garces (7.9)*

Centennial (7.6)

San Joaquin Memorial (3)

Bakersfield Christian (2.3)

Tehachapi (1.8)

Redwood (0.2)

Dinuba (-0.2)

Bullard (-0.9)

Sunnyside (-1.1)

Bakersfield (-3.5)

Tulare Union (-3.8)

Lompoc (-5.4)

Washington Union (-6.1)
* Garces plays Saturday night at Monache
Division III:
Porterville (3.5)

Mission Prep (2)

Kennedy (-1.3)

Mission Oak (-2.9)

Atascadero (-6.6)

Templeton (-7.5)

Golden West (-9.1)

San Luis Obispo (-9.5)

Highland (-10.9)

Stockdale (-11.2)

Pioneer Valley (-11.8)

Kerman (12.2)*

Madera (-10.7)

Tulare Western (-16.9)

Garza (-17.8)

Chavez (-18.1)
Outside looking in: Ridgeview (-18.6)
* Kerman beat Madera, 28-22
Division IV:
Shafter (8.8)

Coalinga (-2.8)

Dos Palos (-4.8)

McLane (-9.1)

Caruthers (-11.1)

Torres (-11.8)

Sierra Pacific (-15.7)

Independence (-19.1)

Exeter (-19.7)

Delano (-20.4)

Golden Valley (-21.9)

Liberty-Madera (-22.3)

Arvin (-22.4)

South (-23.8)

Roosevelt (-24.5)

Mt. Whitney (-25.6)*
* Mt. Whitney beat Morro Bay, which beat Santa Ynez
Division V:
Bishop Union (-13.8)*

Orosi (-21.2)

Santa Ynez (-25.8)

Wasco (-27.3)

Immanuel (-27.5)

Chowchilla (-28.3)

Morro Bay (-29.2)**

Santa Maria (-29.2)

Monache (-29.9)

Taft (-30.2)

North (-30.3)

Mendota (-30.7)

Selma (-30.8)

Woodlake (-30.9)

Boron (-31.5)

Firebaugh (-33.4)
* Bishop Union plays Saturday night at Ontario Christian
** Morro Bay beat Santa Ynez, which beat Santa Maria
Division VI: 
Strathmore (-33.8)

Corcoran (-35.1)

Avenal (-38.1)

Fowler (-40.3)

Orange Cove (-41.3)

Lindsay (-41.6)

Madera South (-42.3)

Kern Valley (-44.5)

Minarets (-45.2)

Rosamond (-45.7)

Foothill (-50.5)

Yosemite (-50.9)

Cabrillo (-52.7)

McFarland (-53.3)

Hanford West (-56.4)

Riverdale (-61.8)*
Outside looking in: Farmersville (-61.1)
Next teams up: Mira Monte (-63.9), Desert (-64.6), Tranquility (-65.6), California City (-66.3), Parlier (-66.9)
* Riverdale beat Tranquility, which beat Farmersville