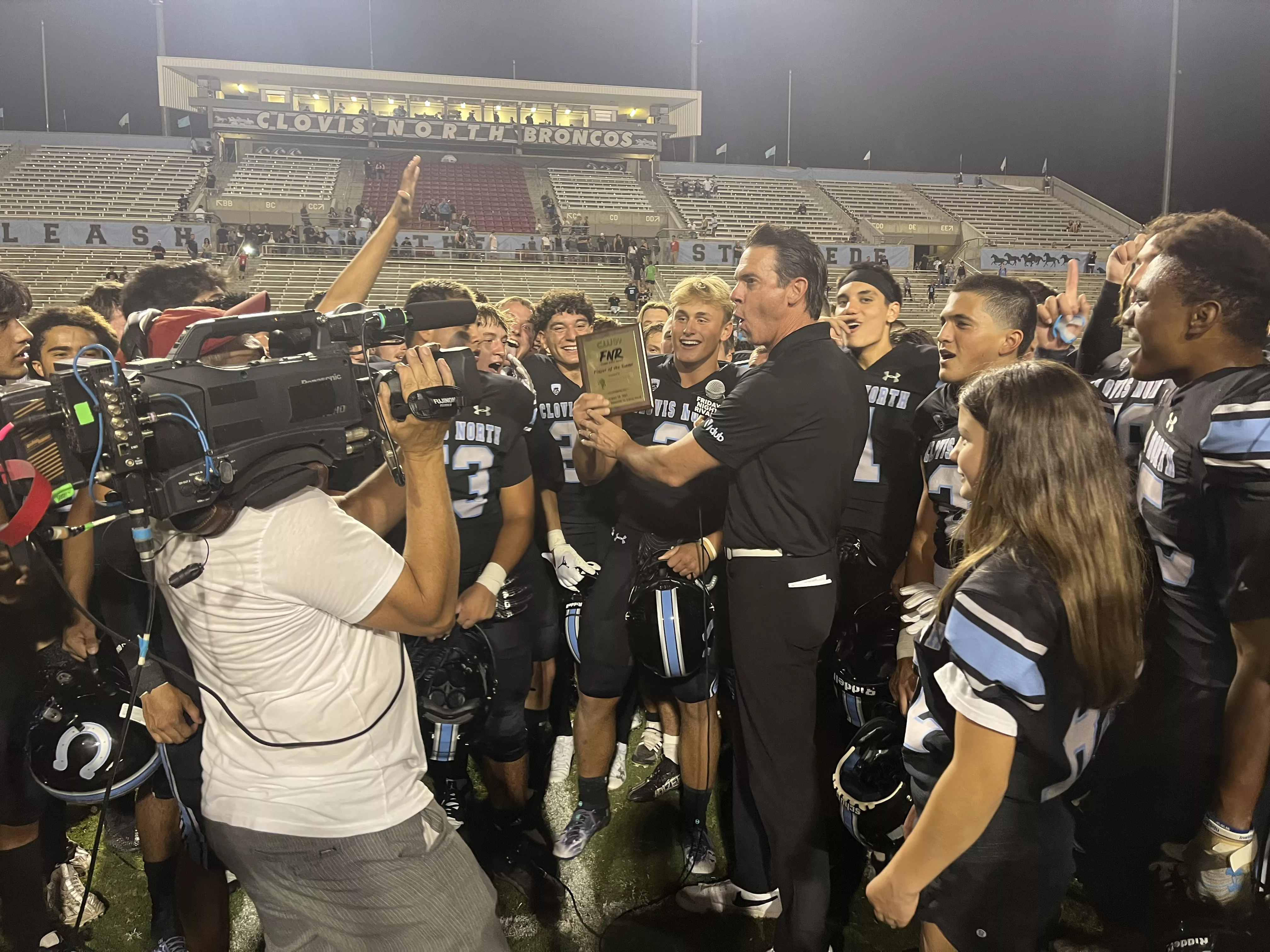 By Gabe Camarillo
The return of high school football did not mean the return of San Joaquin Memorial's local dominance, but it did mean the return of weekly rankings on 1430espnfresno.com!
Go easy on San Joaquin Memorial, even though these rankings did not by dropping them from No. 8 to completely out. There are clear reasons why they lost to Clovis North, 62-8. The Panthers are rebuilding, replacing 10 starters on defense, and fielding a varsity roster of 35 (by comparison, Clovis North had 55 strong). The roster might be thinner than that as some players wait to be cleared to play.
Furthermore, they are breaking in a new quarterback and trying to replace their irreplaceable running back. The score might be a bit surprising, but there is so much gone through graduation and transfers that the SJM roster is largely unrecognizable from a year ago. For example, two key cogs of last year's unstoppable Memorial machine could be found in these rankings, enjoying huge receiving performances for their respective new schools.
Inexperience will be the biggest obstacle for the Panthers this season. The same goes for fellow CMAC teams Bullard and Edison, the trio of which have combined to win the league five of the last six years.
The lone exception? Of course, it's the team that could win it all this year! Sanger fought hard to win the spring 2021 CMAC title and, before that, Chuck Shidan led the Apaches to a three-peat in his final three years at the helm, 2014-16. His former assistant Matt Logue, now head coach, has the type of young talent that Shidan had during that stretch.
There's a Cropper on the team, for one. There's also future Division I college talent on the offensive line and defense, although coaches say Bryson Baker — the highest-rated Class of 2025 recruit in the entire Central Valley — will run the football, too.
The Apaches also face a tough schedule, which includes three Top 10 teams in the latest ESPN Central Section football rankings, that will ready them for CMAC play.
Read on for more about Sanger's defense, the tricky TRAC, the importance of stopping the run, and… South Sequoia supremacy:
*dates/times subject to change
1. Liberty (Bakersfield) Patriots LW: 1
Result: W 34-7 over Palmdale Highland
Upcoming: Fri. 8/25 at Ridgeview, 7:30 p.m.
Liberty holds onto the top spot after outscoring Highland of Palmdale in the second half, 28-7. The defensive effort was led by Dylan Delgado, who picked up where he left off from last year's monster state championship performance. The senior defensive end racked up a team-high 13 tackles and a sack. Linebacker Tyler Lewis made nine solo stops.
2. Clovis North Broncos LW: 4
Result: W 62-8 over San Joaquin Memorial 
Upcoming: Fri. 8/25 at No. 19 Redwood, 7:30 p.m.
Clovis North totaled a school-record 459 rushing yards and scored 42 points by halftime. McKay Madsen (159 yards) and Jackson Cinfel (180 yards) ripped off long run after long run, and Vincent Cordoba paired an interception with a 37-yard touchdown catch from quarterback Mario Cosma. The big question after Friday night was – who could stop the Broncos' stampede of a running game?
3. Clovis West Golden Eagles LW: 2
Result: L 28-38 to Stockton St. Mary's
Upcoming: Fri. 8/25 at Turlock, 7:00 p.m.
Clovis West drops a spot not because they lost – Stockton St. Mary's is a top 20 team in California by multiple rankings – but how they lost. St. Mary's averaged over four yards a carry, to the tune of 227 yards on the ground. Considering Clovis North's superb ground attack, Clovis West takes a step back this week. Landon Wright (159 receiving yards) and Marshel Sanders (128 yards) will shine against any competition they face, though, making it dangerous to bet against the Golden Eagles.
4. Clovis East Timberwolves LW: 3
Result: W 63-34 over Henderson (NV) Foothill
Upcoming: Fri. 8/25 at Arroyo Grande, 7:00 p.m.
Speaking of dangerous, that's the perfect way to describe Clovis East's offense. Ty Miller is making a strong case for being the best high school quarterback in the Valley after his 384-yard, 6-TD performance. He connected with his new target from San Joaquin Memorial, Tommy Nix, six times for 187 yards and two scores. The offense scored so fast, the defense was on the field for most of the game! That partly explains the 34 points allowed. They dropped a spot because of Clovis North's dominant win but make no mistake – the T'Wolves are a legit TRAC contender this year.
5. Centennial Golden Hawks LW: 5
Result: W 35-13 over Redwood
Upcoming: Sat. 8/26 vs. Newbury Park at Moorpark HS, 7:45 p.m.
Having one of the best QB-WR combinations in the Central Section, in Centennial's case, makes them one of the best teams in the Section as well. Adam Copus completed 16-of-23 passes for 253 yards and two touchdowns, and Boston College commit Jaxton Santiago hauled in eight catches for 119 yards while often being double-teamed. The G-Hawks never trailed, thanks to a defense that did not allow a Redwood gain of 20 yards or more, per the Bakersfield Californian.
6. Clovis Cougars LW: 6
Result: W 41-27 over Garces
Upcoming: Fri. 8/25 vs. No. 13 Sanger, 7:30 p.m.
Clovis did a little bit of everything against Garces. Throw the football? Yes, Deagan Rose tossed four touchdowns. Run the football? Yes, Noah Luginbill rushed for over 100 yards. Force turnovers? Yes, Luginibill and Palmer Johnson grabbed interceptions and a fumble was recovered. The Cougars' secondary was susceptible to the big play against Garces; that will be an interesting development to follow with so many heavy passing teams in the top eight.
7. Central Grizzlies LW: 7
Result: W 48-13 over Stockton Edison
Upcoming: Fri. 8/25 at San Joaquin Memorial, 7:00 p.m.
I wouldn't classify Central as being "pass-heavy" as in years past, because they have an outstanding running game this year to ease junior Earl Riley into the starting role. Riley isn't going to run as much as previous QB Dayton Tafoya did; he's a prototypical pocket passer who will feed the football to veteran playmakers Noel Felix III (3 catches, 70 yards, TD) and Braylen Hall. But now, there's an exciting new kid on the block – sophomore RB Brandon Smith, nephew of former Fresno State star Clifton, scored four times Friday.
8. Frontier Titans LW: 10
Result: W 45-14 over North Bakersfield
Upcoming: Thurs. 8/24 vs. Bakersfield High, 7:30 p.m.
Frontier slid up two spots with previous No. 8 San Joaquin Memorial and No. 9 Garces losing. Malakhi Statler posted video game-like numbers against an overmatched North squad – 16-for-20, 361 yards, and 6 TDs. Frontier is built a lot like No. 5 Centennial with a potent passing attack, but there are questions about establishing or stopping the run, as evidenced by North's seven yards a carry. 
9. Buchanan Bears LW: 12
Result: W 38-18 over Downey St. Pius X-St. Matthias
Upcoming: Fri. 8/25 vs. Escalon, 7:00 p.m.
Not much is known about Buchanan's Week 1 opponent, except that SPXSM went 8-2 last year as a Division III team in the Southern Section and lost two Division I commits on defense. That's where Buchanan attacked as Logan Sanchez completed 11 of 12 passes for 146 yards and two touchdowns. There was a heavy focus on running the football, and Garret Menagh led all ball carriers with 119 yards and a touchdown. This game was never in doubt, and that brings some of the preseason doubts about Buchanan into question. 
10. Hanford Bullpups LW: 13
Result: W 71-7 over Bullard
Upcoming: Sat. 8/26 vs. Atwater Buhach Colony, 7:30 p.m.
Hanford is destined for Division I after drubbing Bullard, 71-7. Here's the thing – this explosive offense gives the Bullpups a chance against anyone, especially in a season without many dominant defenses. Jordan Black-Glass, who transferred back from San Joaquin Memorial, caught four passes for 157 yards and a touchdown. With more future college-level talent like Kourdey Glass and Daniel Gomez, Hanford is equipped to run with anybody; we'll learn more about the defense in a couple weeks against Frontier. 
11. Garces Rams LW: 9
Result: L 27-41 to Clovis
Upcoming: Thurs. 8/24 vs. Lancaster Paraclete, 7:30 p.m.
There were ups and downs for sophomore Gunter Golla's varsity debut, but the future is bright. Tossing 225 yards, the most by a Garces passer since former Fresno State QB Joseph Campbell, included two long bombs to Cage Williams. As Golla grows, the Rams will be tough to stop offensively. They were within a touchdown of Clovis in the 4th quarter, but turnovers hurt them. The Cougars scored three touchdowns after a fumble, interception, and turnover on downs. Clean those up, and Garces is looking differently.  
12. Kingsburg Vikings LW: 14
Result: W 59-21 over Paso Robles
Upcoming: Fri. 8/25 vs. Sunnyside, 7:30 p.m.
The Vikings look a bit different offensively but still score the same. Kingsburg introduced its "Wark-speed" offense as Max Warkentin threw four touchdowns and 238 yards. He's done it before, starting games in spring and fall of 2021. But Denis Gagnon's 148-yard romp, which featured long run after long run, was a breakout performance that proves the Vikings, despite lots of graduations, have the offense to back up its stellar defense.
13. Sanger Apaches LW: 15
Result: W 41-7 over Dinuba
Upcoming: Fri. 8/25 at No. 6 Clovis, 7:30 p.m.
The Apaches had their way defensively with Dinuba, anchored by three solid defensive linemen up front and an athletic, rangy secondary. Consider this – Sanger has returned all-league defensive end Adolfo Hurtado, 300-pound nose guard Nate Velasquez, and a healthy Cody Coles coming off the edge. The front line of the Apaches' 3-4 scheme stifled Dinuba's power run, and as it took away the ground game, a secondary featuring rising stars Marquis Cropper and Carlos Young awaited. When three-star recruit Bryson Baker returns healthy, Sanger will be bolstered at cornerback and in the backfield. 
14. Lemoore Tigers LW: 18
Result: W 48-0 over Selma
Upcoming: Fri. 8/25 vs. Washington Union, 7:30 p.m.
With nine defensive starters back, there was something familiar about Friday's win over Selma – it ended in a shutout. The Tigers' defense was spearheaded by the senior Silvas, Jace and Spencer, who combined for 13 tackles. They also collected three fumbles. The non-league storyline for Lemoore is how new quarterback Johnny Cunha takes over the job; he passed his first test with flying colors and four touchdown passes.  
15. Central Valley Christian Cavaliers LW: 19
Result: W 63-41 over Ripon Christian 
Upcoming: Fri. 8/25 vs. Edison, 7:30 p.m.
CVC, like Lemoore above and Bakersfield Christian below, jumped four spots because of several losses ahead of them in the rankings. The Cavs won in a wacky way, if you consider 327 yards on seven carries from highly recruited running back Bryson Donelson abnormal. Similar to Clovis East, the offensive efficiency actually tired the defense and played a role in allowing 41 points. It's not like Donelson will stop this week against Edison, which allowed 64 to Kennedy and its run-exclusive gameplan. 
16. Kennedy Thunderbirds LW: NR
Result: W 64-24 over Edison
Upcoming: Thurs. 8/24 at Stockdale, 7:30 p.m.
Speaking of those Thunderbirds, it's true: they did not complete a single pass and still posted 64 points against Edison. Running back Jace Demacablin deservedly received the headlines for a four-TD performance, but fellow sophomore Jamison Membreve and senior Damian Flores whittled away the Edison defense, too. A rebuild might have been expected after winning a Division III championship and graduating much of the defense, but the offense returned a lot of size and muscle. The T-Birds continue to rise and will challenge more big schools in the future; they host a prominent TRAC program in Week 1 next season.
17. Bakersfield Christian Eagles LW: 20
Result: W 13-8 over Mission Prep
Upcoming: Upcoming: Fri. 8/25 vs. No. 18 St. Joseph, 7:30 p.m.
A sloppy game played in beautiful Spanos Stadium in San Luis Obispo ended with Bakersfield Christian on top. The Eagles moved the ball, but it was one thing after another that kept them from pulling away. Two botched snaps resulted in a missed field goal, and a turnover leading to Mission Prep's trick play touchdown. That was the only mishap for the Eagles' defense, and Dylan Johnson came through on offense with a 45-yard jet sweep and a 37-yard touchdown catch. Hosting St. Joseph is the start of three straight Top 20 games, so we'll find out how good BCHS is over the next month. 
18. St. Joseph Knights LW: 11
Result: L 13-37 to Palos Verdes
Upcoming: Fri. 8/25 at No. 17 Bakersfield Christian, 7:30 p.m.
Well, the quarterback question is still there. Carter Vargas caught a 60-yard touchdown, and Collin Fasse corralled a 50-yard score, but both happened in the fourth quarter as the game was already decided. Palos Verdes is a Top 25 team in the Southern Section, so it's difficult to drop the Knights completely out of the rankings. St. Joe's is right behind Bakersfield Christian, as Friday's meeting between the two should be close. The teams are so similar, having experienced skilled guys but inexperienced quarterback play. 
19. Redwood Rangers LW: 17
Result: L 13-35 to Centennial
Upcoming: Fri. 8/25 vs. No. 2 Clovis North, 7:30 p.m.
Redwood is undergoing transition at quarterback and on defense and, while both will improve as the season progresses, facing two Top 5 teams to begin the season isn't ideal for immediate success under those circumstances. The running game churned out consistent yards, but there wasn't much reliance on it since Redwood trailed for much of Friday night. The key to upsetting Clovis North is jumping ahead on the first drive and using the legs of Alex Perch and Jacob Florez to stay ahead. 
20. Shafter Generals LW: NR
Result: W 55-7 over West
Upcoming: Fri. 8/25 vs. Arvin, 7:30 p.m.
If Kennedy cracks these rankings, Shafter cannot be too far behind. After all, the defending Div. IV champion Generals are likely the biggest threat to Kennedy repeating as South Sequoia League champions. The reason why? He wears No. 1 and enters his sophomore year as one of the best quarterbacks in Kern County. Ezekiel 'EZ' Osbourne threw for seven touchdowns and 402 yards last week, and his star senior wideout Jesus Figueroa accounted for 207 of those yards. Their large offensive line makes it all happen. The Generals have upcoming games against Bakersfield High and Bakersfield Christian to prove they can beat Division I and Division II teams.