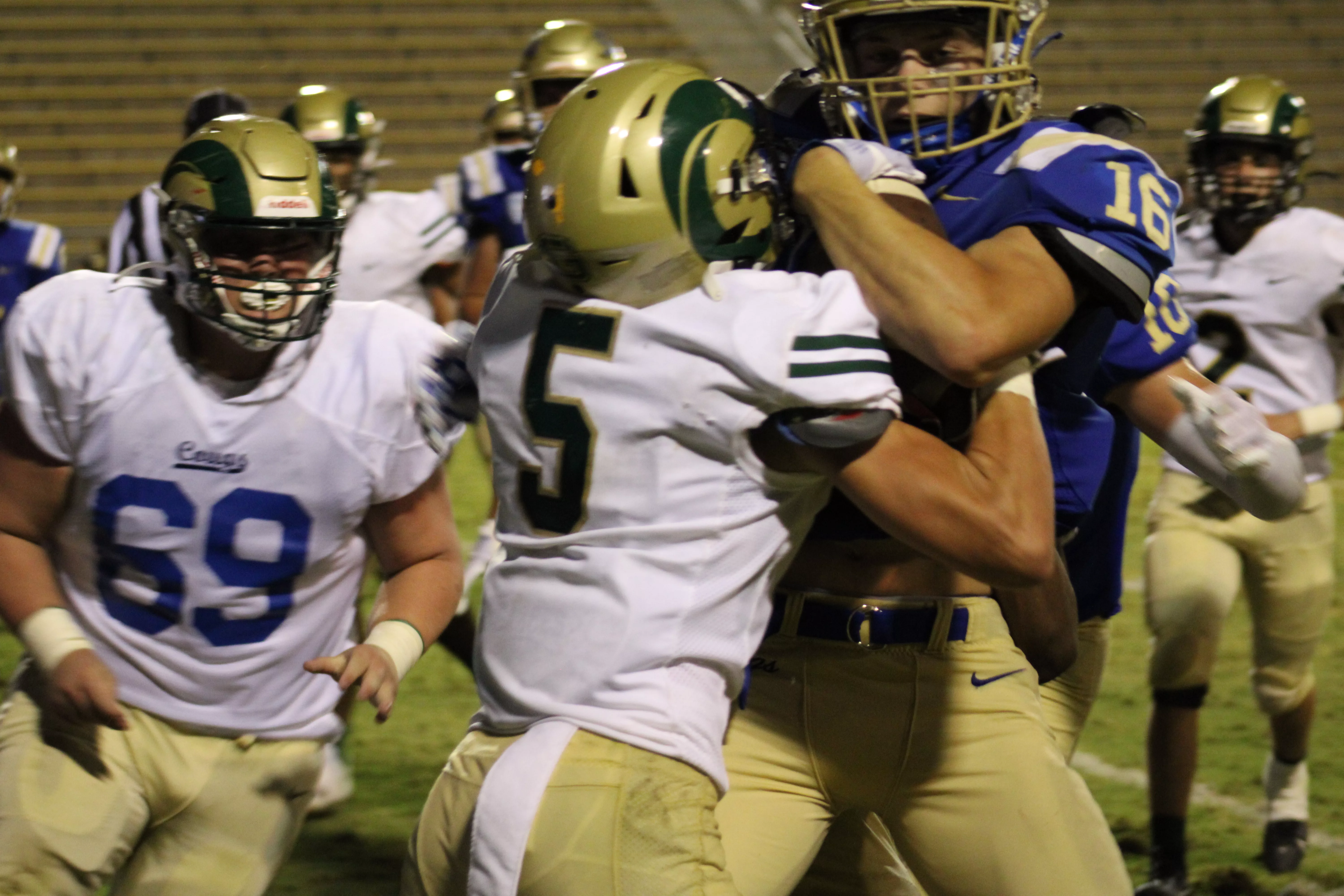 Clovis senior running back Noah Luginbill (#16) is met by Garces junior defensive back Austyn Hernandez during Thursday's season opener for both teams.
By Gabe Camarillo
Clovis swarmed Garces throughout the warm August night so relentlessly that at times, it appeared the Garces offensive line wore blue from their constant collisions with the Cougars' navy jerseys.
Except they actually were wearing blue. Garces' uniforms barely arrived Thursday, shipped to Lamonica Stadium where the team received them, only to be dismayed when the offensive line's jerseys didn't make the trip.
Clovis lent a few practice jerseys with blue numbers to Garces, then proceeded to bully the Rams with a ferocious rushing attack that opened up precise throws for sophomore quarterback Deagan Rose to make.
Rose passed for 250 yards and four touchdowns, and the Clovis Cougars pulled away, 41-27, a score only made so close by a Garces touchdown with 18 seconds remaining.
Noah Luginbill led Clovis (1-0) with 101 rushing yards on 14 carries, and Roman Moreno tacked on eight rushes for 58 yards. Both seniors found the end zone.
"Balanced as ever," said Clovis head coach Aaron Wilkins. "We can throw the ball when we want to. Roman does a nice job being patient. Lugie is a tough runner. He can run down your face."
The defense played its role by forcing three turnovers, the first of which set up the Cougars' opening touchdown.
Garces (0-1) fumbled at its own 37-yard line and Rose made them pay, unleashing a scoring strike to Jacob Saldate on the next play. Saldate's speed shined as he was alongside the cornerback when the ball was initially thrown but had yards of separation once he caught it.
"I feel like our guys can beat anybody," Rose said. "I trust my teammates and I let them win one-on-ones."
Momentum appeared to shift early in the second quarter. Garces linebacker RJ Green stopped Luginbill short on 4th down, giving the Rams possession at Clovis' 39-yard line. But they were stopped, too, by a sea of blue on 4th & 1.
The very next play, Rose flung a pass over the eager, leaping arms of a Ram cornerback and safely into the hands of Tyler Marquez, who weaved his way past two more Rams for a 70-yard house call.
Two quick touchdowns came off two big defensive plays, and just like that, Clovis led 16-0.
Garces responded swiftly by marching 66 yards in five plays and hitting paydirt on a 37-yard touchdown pass from Gunter Golla to Cage Williams.
Gunter Paul Golla IV, as his birth certificate reads, is the son of Gunter Paul Golla III, the fifth year Garces head coach who commonly goes by simply "Paul".
"The first thing I was nervous about, how is he going to perform?" Golla said. "But once the game started, he was my son, but I didn't even think about it. Because now you're just competing."
The sophomore Golla held his own in his varsity debut, throwing for 234 yards and using his pump fake to free Williams twice for touchdowns. The second time he did it, the duo connected for 70 yards to trim Clovis' lead to 22-14 at halftime.
Clovis took control early in the second half, thanks to a sack and a score. After two quick Ram first downs on their opening drive, Clovis senior John Villanueva dragged Golla down in the backfield to force a punt – setting the stage for Luginbill's lead-extending seven-yard scamper.
"Our O-Line is the best in the Valley, so that's a statement of fact right there," Luginbill said. "We're going to pound it on everybody."
Garces punched back with an eight-play, 75-yard drive that featured a heavy dose of Highland transfer Austyn Hernandez (14 carries, 96 yards). The Rams cashed in on senior Ian Harrison's three-yard touchdown, but an unfazed Clovis scored twice more.
As was the theme all Thursday night, whenever Garces had an answer, Clovis had a better one.
Moreno punched one in from a yard out and, following Palmer Johnson's interception, Rose found Marquez again for a 24-yard touchdown.
"Out of all the quarterbacks we've played, and we've faced four NFL guys, we hit [Rose] and we hit him, and in the fourth quarter, he was so composed on that last drive," Golla said. "It didn't faze him. Normally a high school kid gets fazed… That's the guy you want on your team.
"That's a special deal, especially at that young of an age."
Rose and the Cougars play again at Lamonica Stadium next Friday when they host Sanger. Garces welcomes Paraclete of Lancaster for its season opener.