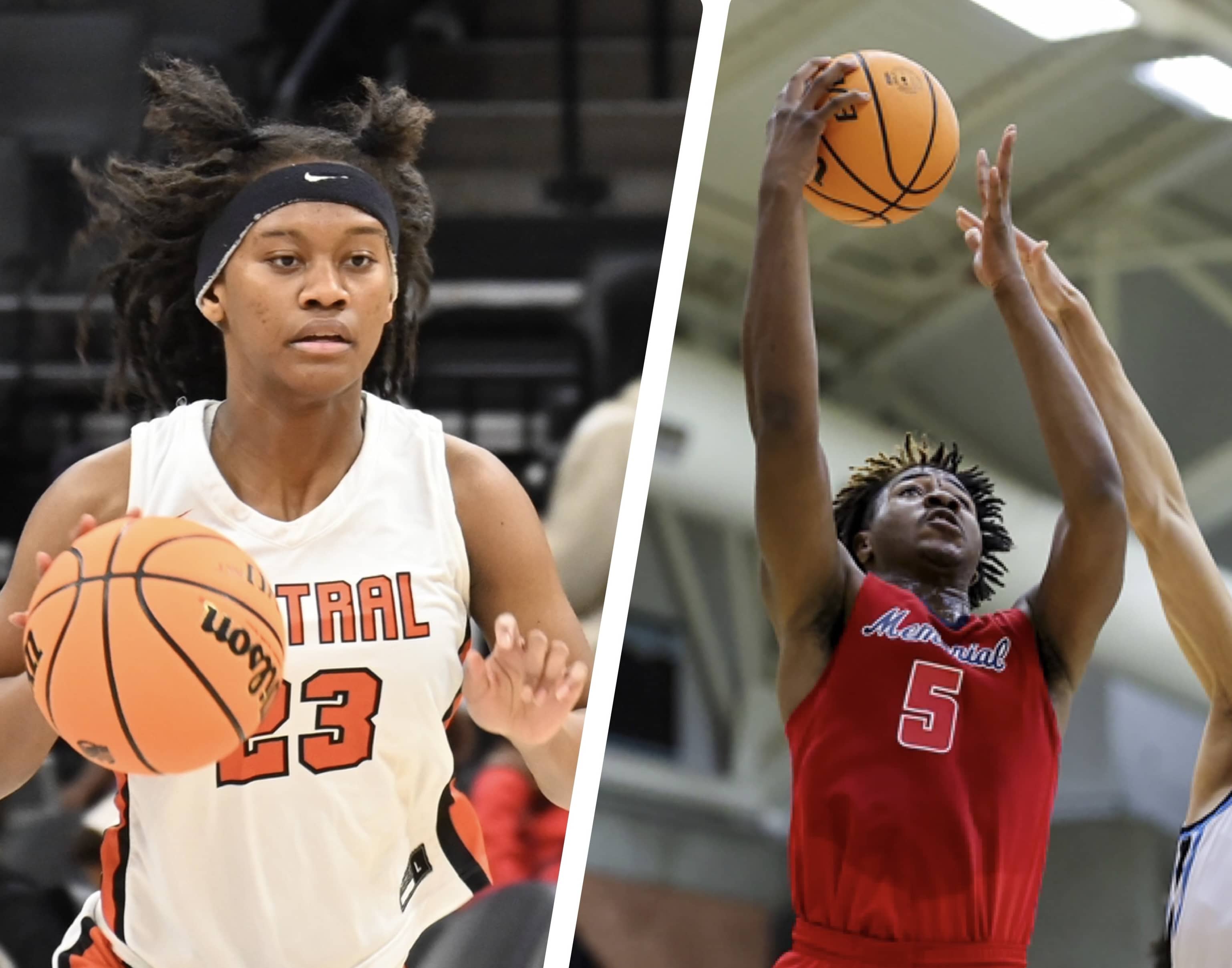 Central senior Talia Maxwell and San Joaquin Memorial senior Mike Davis Jr. are among the first team All-ESPN Fresno selections from the 2022-23 season.
By Gabe Camarillo
To put a bow on the 2022-23 high school basketball season, after all the awards and all-star teams named by various media outlets up and down the central San Joaquin Valley, the inaugural All-ESPN Fresno teams will be unveiled below.
This is not the ultimate say, but it's likely the final say on who were the top performers in boys' and girls' basketball before teams enter further into the offseason, seniors graduate, and the new season begins.
Let's recap the previous one – a girls' basketball team from the Central Section cracked the Top 10 of the country (Clovis West) while a boys' basketball team played in the last high school basketball game in all of California, the Open Division state final (St. Joseph).
In boys' basketball, established powers like Clovis West and Clovis North swept through their league, upstarts like Centennial and Stockdale jumped into the Division I title picture, and something special was brewing in the mountains, where Sierra kept winning and climbing divisions.
In girls' basketball, the TRAC turned into the best league in the Valley – and arguably one of the best in California – and small-town Caruthers made history with every "first" they encountered in the Division I postseason.
These were the stories of the season but not the only ones. Fans, players, and coaches adapted to the new playoff format, anxiously updating MaxPreps on a biweekly basis. Traditional powers like Edison boys' basketball experienced a resurgence, while long-standing local icons like Hanford head coach Brad Felder – the all-time winningest coach in Central Section boys' basketball history – called it a career.
Of course, the Central Section basketball year ended with a bang as the Central girls and San Joaquin Memorial boys took home their first-ever state championships.
So, before we finally turn the page to the next season, let's take one last look at the 15 best boys' and girls' basketball players in the Central Section. Because the list is so short, there were plenty of deserving players left off.
The All-ESPN Fresno teams are structured like the All-NBA teams, for the most part. Each team has three guards and two forwards, like a typical high school lineup. There are exceptions made where you'll see more than two forwards or more than three guards on a team, but those are few. There are three honorable mentions apiece as well. 
The criteria for being selected included but was not limited to: season-long stats, contributions to team achievements, value to the team, and "clutch" performances. They are selected from across the Central Section, not just Fresno and the surrounding area.
First Team All-ESPN boys' basketball
G – JJ Howard, Mission Prep
Howard was an explosive 6-6 guard capable of taking over games late for the Royals. He did exactly that with a 26-point playoff performance over Bullard. As a senior, he averaged 25 points per game for the second straight year. A prolific scorer throughout his high school career, Howard will play WAC basketball for his college career at UT Rio Grande Valley.
G – Jordan Espinoza, Clovis North 
Espinoza filled the stat sheet throughout his junior season, in which he emerged as a leader on the team without Connor Amundsen. His value to Clovis North was immense, in that sense. His energy on defense paired well with shot-creating ability around the rim, not to mention rebounding prowess that provided plenty of second and third opportunities for him and his teammates. 
G – Armari Carraway, SJM 
Carraway played at one speed all the time – fast as heck. He pushed the pace, without playing recklessly, and shared the ball selflessly as the point guard of talent-rich San Joaquin Memorial. He played his best in big games; when his team needed a big three, Carraway delivered more often than not. He averaged 16 points and five assists a night. 
F – Tounde Yessoufou, St. Joseph
Yessoufou sharpened his game heading into his sophomore year. The results were obvious; he improved from six to 50 made threes last season, which helped him score 28 points per contest. He averaged 11 rebounds and swiped four steals as well. Simply put, he was a baller without any weakness.
F – Mike Davis Jr, SJM
Davis Jr. performed with a graceful power that was truly fun to watch. His smooth post moves created easy paths to the basket, and he possessed the strength to crash the boards at will and score second-chance buckets aplenty. He was a double-double machine, the final of which – 17 points and 14 rebounds – helped San Joaquin Memorial win a state championship.
Second Team All-ESPN boys' basketball
G – Issac Martinez, Clovis West 
Martinez heated up like few other shooters could in the Central Valley. When his shot was hot, he could single-handedly change a game in Clovis West's favor. In his senior year, the two-time TRAC MVP became the third Golden Eagle in the last 15 years to surpass 1,000 career points; Adrian Antunez and Cole Anderson were the other two.
G – Jackson Young, Clovis West
Young didn't need much time – or space – to get his dangerous 3-point shot off. He built off a sensational sophomore season to leave his mark from beyond the arc as a junior. He also facilitated the offense and fed Clovis West's wide array of talented scorers. Both talents helped him earn TRAC co-MVP honors with Martinez.
G – Rippen Gill, Centennial
Gill was a valuable asset to Centennial's breakout 2022-23 campaign. He averaged 23 points per game and gave himself plenty of extra chances to score with 5.5 steals per contest. The 6-6 junior guard returns next year as the reigning MVP of the Southwest Yosemite River League.
F – Luis Marin, St. Joseph
Marin shined as a three-year starter at St. Joseph, and the experience paid off when the Knights needed it most. He was the team's leading scorer in the Central Section and Open Division state championship games, totaling 18 points in each.
F – Jaylen Bryant, Clovis North 
Bryant's contributions to Clovis North have always been valuable, especially in his senior year. He vacuumed basketballs off the glass, swatted them away when they hurled toward any basket he was defending, and expanded his offensive game. He earned TRAC Defensive Player of the Year honors.
Third Team All-ESPN boys' basketball
G – Gabe Gutierrez, Bakersfield Christian 
Gutierrez played half the season because of the 30-day sit-out period, but he rose to the occasion in big games and guided the Eagles to the Division I semifinals. The brightest moments of his sophomore season – a game-winner over Edison on the road, 29 points over SYRL champion Centennial, and 21 second-half points in a playoff win at Clovis North.
G – Logan Kilbert, Sierra 
Kilbert dazzled, dunked, and drained shot after shot for the Division 5 state runner-up Sierra Chieftains. He averaged 29 points and eight rebounds per game, all while balancing three other sports (football, baseball, and track). His season-high was 54 points against Parlier, but his 42 points against Hoover were critical to avoid a first round Section playoff exit and ignite a state championship run. 
G – Javier Torres, Dinuba 
Torres was a long, athletic 6-2 guard who impressed opposing coaches with his poise on the basketball court. His consistency never wavered as he opened the season with double-digit scoring in 16 of his first 17 games. When defenses homed in on him, his rebounding and passing helped others around him succeed and guided the Emperors to the Division II semis.
F – Jhace Boston, Stockdale  
Boston was technically a guard for Stockdale, but his size and skillset made him a natural fit for the "4" on this all-star team. The 6-3 senior shared league MVP honors with Gill and led the upstart Mustangs in scoring, rebounding and assists.
F – Jaden Haire, Hanford West 
Haire was another small school star like guards Torres and Kilbert, but his mix of height and heart truly separated him as one of the best big men in the section. The senior Husky averaged a double-double with 21.3 points and 11.2 rebounds. 
Honorable: Caedin Hamilton, St. Joseph
Honorable: Conner McFall, Kingsburg
Honorable: Nic Esparza, Selma
First Team All-ESPN girls' basketball
G – Athena Tomlinson, Clovis West
As head coach Craig Campbell described Tomlinson before the season, the junior is "quicker than a hiccup." Playing at a frenetic pace that overwhelms the opponent on both ends of the floor and armed with a reliable three-point shot, Tomlinson earned the title of best point guard in the Valley during her junior year.
G – Devin Miller, Clovis High
Miller's four-year career was fun to follow. Her ability to heat up from 3-point range helped Clovis High reach the Central Section Division I championship game. Miller's four treys in a 16-point comeback win over St. Joseph, her impeccable defense in an upset win over Clovis West, and the game-winner over Vanden in the state playoffs stand out as season highlights for the Fresno Pacific-bound southpaw.
F – Etoyah Montgomery, Clovis West 
Montgomery's versatility makes her fit for the "3" in this star-studded lineup. She was a strong paint presence for nationally ranked Clovis West, but her finesse and ballhandling ability made her very difficult to guard as well. Capable of knocking down a 3-pointer when needed and knocking away opponent's shots, it was no surprise the Long Beach State-bound forward finished her career with four Valley championship rings. 
F – Talia Maxwell, Central 
Maxwell exploded in the state playoffs and became a household name for local sports fans. Her tenacious rebounding and controlled aggressiveness driving toward the basket yielded eye-popping stat lines, such as 37 points/16 rebounds in the state regional final and 24 points/24 rebounds in the state championship. 
F – Meadow Roland, SJM 
Roland missed time due to injury but when she saw the floor, she was a pest on defense and averaged about two steals and three blocks per game. The 6-2 senior led the Panthers in scoring and signed with Mountain West champion UNLV.
Second Team All-ESPN girls' basketball
G – Avery Cain, St. Joseph
Cain's combination of length and speed made her hard to stay in front of. If she wasn't carving her away inside the paint, the 6-2 point guard would pull up with her left jumper as smooth as butter. The two-time Mountain League MVP averaged 21 points, seven rebounds and three assists.
G – Alyssa Kem, Clovis High 
As a Clovis Cougar, Kem often pulled up from mid-range and shot the basketball with merciless precision. The Fresno Pacific-bound shooting guard worked well along Sadie Sin and Devin Miller, and her veteran presence shined brightest with a 27-point explosion in the Section semifinals vs. St. Joseph. 
G – Mo Trigueiro, Caruthers 
Triguiero went by the nickname "Mo Buckets", and it was an accurate description of the Caruthers senior who scored more points (881) than any other girls' basketball player in the Central Section this season. She averaged 25.2 points per game and became the Blue Raiders' all-time leading scorer. 
F – Faith Curry, Liberty (Bakersfield) 
Curry missed nine games because of CIF transfer rules, but once she hit the hardwood, she never looked back. She was a three-level scorer with 15 ppg and 40% shooting from 3-pt range. Beyond the numbers, though, what defined Curry's junior year was her leadership in Liberty's first ever Central Section girls' basketball championship.
F – Candace Kpetikou, St. Joseph
The 6-4 Kepetikou affected shots like few others could in Central Section girls' basketball. The Washington State signee blocked over two shots and pulled down 10 rebounds per game. Add in her reliable 13 points per game, and the Knights got outstanding production on both ends from Kpetikou.
Third Team All-ESPN girls' basketball
G – Sadie Sin, Clovis High
Clovis' future is bright thanks to a freshman with a killer crossover. Sin played above her age many times, blessed with an ability to create separation with a couple dribbles and a fearless desire to drive inside the paint. She proved to be adept at dishing out assists, too, and colleges like Fresno State and UC Irvine are already calling about the freshman. 
G – Aloni Oliver, Buchanan 
Oliver stood out on a very deep, balanced Buchanan roster as the team's leading scorer and rebounder. The numbers speak for themselves – 16 ppg and 7.5 rpg. Her three assists and steals per game further prove the all-around nature of her game.
G – Ariyah Smith, Clovis West
Smith served a critical role in the Golden Eagles' offense, especially in the heart of TRAC play when she dished out seven assists a game at one point. The senior displayed her defense in the biggest game of the season, swiping five steals against eventual Open Division runner-up Archbishop Mitty. That was par for the course for the defensive stalwart Smith. 
G – Kenyah Stubbs, Hanford 
Stubbs recorded the highest scoring average in the Central Section last season – 28.8 ppg – and saved her best for elite competition. She scored 32 points against Buchanan and Central, and she averaged 30 points per game throughout West Yosemite League play. 
F – Makayla Carre, Sierra Pacific 
Carre was a "point center" for the Golden Bears as she could direct the offense while also being the focal point on the low block. She averaged 18 points and 11 rebounds along with two assists per game. 
Honorable: Leyocha Marigney, Roosevelt 
Honorable: Gabby Ramos, Clovis East
Honorable: Sara Shein, Bakersfield Christian