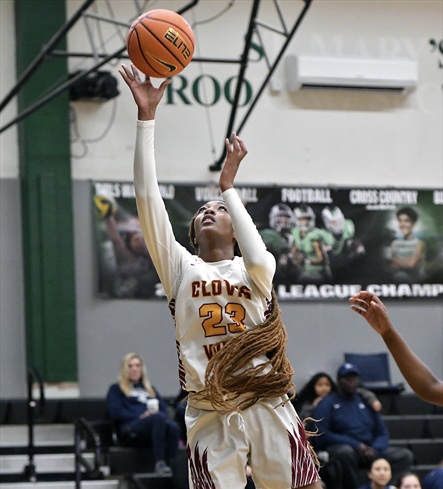 Etoyah Montgomery and Clovis West have won 20 straight games, sweeping through trips to Washington DC and Orlando against nationally prominent competition.
By Gabe Camarillo
gcamarillo@1430espnfresno.com
The Central Section girls' basketball season has been fun to follow for several reasons, from the numerous out-of-town trips against elite competition, to the fierce league battles with playoff implications. 
Every night in the TRAC qualifies as one of those.
From top to bottom, the Tri-River Athletic Conference stands as tough as it's ever been. Three years ago, the league provided all four Open Division participants in girls' basketball. But not even that year did the conference have five teams inside the Top 7, a true testament to its overall strength. This season, every TRAC squad was over .500 entering league play.
Outside the TRAC, St. Joseph and San Joaquin Memorial present so much talent and balanced scoring. Then, you have the elite small school programs such as Orcutt Academy and Caruthers, which prove up to the task of battling bigger schools.
In Caruthers' example, they might have to next month. The Blue Raiders are based in Division II, meaning they could play in Division I if they are ranked by MaxPreps among the Top 12 teams based in D1 or D2 – which they are. 
Such an elevation to the highest division of Central Section girls' basketball is unprecedented for Caruthers – but read on to discover why the Blue Raiders will be competitive wherever they're placed at.
Without further ado, here is my first batch of the ESPN Fresno Central Section girls' basketball rankings, as of January 20:
1. Clovis West Golden Eagles
Record: 20-0
For the second time in three seasons, the Golden Eagles won their first 20 games. Ranked by Cal-Hi Sports as fourth in the state, and by MaxPreps as 12th in the country, Clovis West extended its league winning streak to 32 games with a 70-35 win over Clovis East Tuesday.
Riley Walls led the way with 20 points, joining Keegan Medeiros and Trinity Tolbert as recent Golden Eagles scoring in double figures. Ariyah Smith dished out 30 assists over the last four games, plenty of them to Long Beach State-bound Etoyah Montgomery and Athena Tomlinson. The duo paces the defending Open Division champs with about 16 points per game each. 
2. St. Joseph Knights
Record: 17-3
St. Joseph made a statement in its first game, traveling to Clovis and beating the Cougars on their home court, 71-65. For that, along with their dominance since that opening win (average margin of victory: 29.7), the Knights are firmly No. 2 in the Central Section.
Two players to watch: junior Avery Cain leads the team with 19.1 points per game, using her tall 6-foot frame to score inside and outside. Speaking of tall, senior center Candace Kpetikou averages a double-double with 13 points and 10.7 rebounds per game.
3. Clovis Cougars
Record: 17-3
Clovis earned the No. 3 ranking over Buchanan due to a head-to-head victory over the Bears. A trio of Cougars are scoring in double figures: Devin Miller (15.6 ppg), Sadie Sin (13.5 ppg), and Alyssa Kem (10.8 ppg). Genevieve Tamondong cleans up the glass with 10 rebounds per game. 
Clovis was very competitive with St. Joseph in their meeting, erasing an 11-point halftime deficit before falling short. It would not be surprising if the two meet again next month; the sequel should be just as entertaining as the original. 
4. Buchanan Bears
Record: 18-3
Buchanan's resumé is strong; three losses came to state No. 18 Windward, state No. 8 Folsom, and league rival Clovis. The Bears also pass the eye test with plenty of scoring talent. All five starters – Aloni Oliver, Journey Morrison, Vanna Quintana, Kylee Barnes, and Kalena Tauiliili – score in double figures. 
Oliver averages 16 points per contest to lead the Bears, and Quintana fills the stat sheet with 10 points, 6 rebounds, and 5 assists per game. Important playoff seeding note: although St. Joseph is behind Buchanan in the MaxPreps rankings, the Knights hold the common opponent tiebreaker by beating Clovis, which beat Buchanan. 
5. San Joaquin Memorial Panthers
Record: 11-7
The defending Division I champions travel to state No. 3 Etiwanda on Saturday, the fifth meeting between the Panthers and a Top 20 team in the Cal-Hi Sports state rankings. Memorial has persevered through injuries and delivered a balanced attack. UNLV signee Meadow Roland does everything well, averaging 15 points, 6 rebounds, 2 blocks and 3 steals per game. Jailynn Clayton runs the offense, to the tune of 11 points and 5 assists per game, and super sophomores Alexis Swillis and Saiya Sidhu each chip in 11 points per contest.
Injuries have been the only thing slowing down the Panthers; Roland missed the last six games due to injury, and other Panthers missed time, too. Good news: they are starting to get healthy right now, according to head coach Geoffrey Clayton. 
6. Central Grizzlies
Record: 10-8
Central lost its last five games, but considering two were against state Top 10 teams, the Grizzlies should not be punished for facing quality competition. Senior forward Talia Maxwell has excelled in these big games; she averages 23 points and 9 rebounds per game. Junior point guard Keytonna Ross adds 10.4 points per game.
Central battled league foes Clovis and Clovis West for a full four quarters, proof that this squad will be a tough out in the playoffs. 
7. Clovis East Timberwolves
Record: 13-8
Clovis East checks in behind Central due to a head-to-head loss, although that result came without impact transfers Gabby Ramos and Haley Duvall available. Ramos leads the team with 18 points per game. I'll be interested to see how the next two games between Central and Clovis East unfold.
The Timberwolves' turnaround began last year with an 18-12 record and two wins over Clovis. Clovis East and Clovis meet again Friday, and if the T'Wolves beat their nearby rival for the third straight time, it'll warrant a boost in the rankings. The senior class is strong with Kylie Ward (11 ppg), Ameyah Anderson (9 ppg), shot-blocking extraordinaire Rajdeep Kaur (5 blocks/game), and Allie Madron (5.7 assists/game). 
8. Caruthers Blue Raiders 
Record: 15-4
Caruthers ran its league winning streak to 95 games with an 87-point win over Liberty-Madera Tuesday, which featured 33 points from senior Mo Trigueiro. It should be a closer game Friday at Sierra, which beat Riverdale 93-4. Trigueiro is one of several standout seniors, along with Anisa Torres, Yuliza Padilla, and Lupe Lemus. Freshman Emmi Almeida has made an early impression, and junior Gizelle "Monster" Aguirre's versatility shines on the court.  
The Blue Raiders tested themselves in non-league play and shared common opponents with other Division I teams. For instance, Caruthers lost to Timpview by eight points (Central lost to Timpview by 21 the next day). Then, Caruthers lost to Lynnwood by eight (Clovis lost to Lynwood by 10 two days later).
The Blue Raiders are battle-tested, which they need to be since they're likely headed to Division I. Another test looms Saturday against Central. 
9. Orcutt Academy Spartans
Record: 15-3
Outside of Clovis, Orcutt Academy was the other Central Section team to give St. Joseph a close game. Besides a second quarter scoring drought, the Spartans matched the Knights shot for shot but lost earlier this month, 62-49. 6-foot-2 freshman Elizabeth Johnson broke out for 24 points in the effort.
Speaking of Johnson, she leads the team with 21 points and 12 rebounds per game. The other half of the Spartans' dynamic duo, senior Khaelii Robertson-Mack, averages 17 points per contest. As a base Division III team, Orcutt Academy will be among the favorites to win Division II.
10. Monache Marauders
Record: 20-2
Monache earned the Top 10 nod due to consistency and big wins. The Marauders became the second team to reach 20 wins, following Clovis West. Their road win over Sierra Pacific stands out as a marquee win. One of their losses came by 13 against a full-strength Clovis East; it'll be interesting to see how that score compares to other TRAC teams.
Junior Alisha Verdejo leads the scoring charge (12 ppg), and freshmen Millie Rojas (10.7 ppg) and Kyah Bartlett (9 ppg) are not far behind either. In fact, four freshmen get the bulk of the minutes for the Marauders.
The next five:
11. Nipomo Titans
Record: 14-3
A 10-game winning streak was recently snapped for Nipomo, which travels to Orcutt Academy Friday in a huge opportunity to jump inside the Top 10. The Simonson sisters – Makennah and Belle – guide the Titans.
12. Clovis North Broncos
Record: 10-10
New head coach Alexandria Orlich scheduled heavily early, and it paid off: the battle-tested Broncos went 10-4 in December. Clovis North beat Righetti 53-46 during that stretch, hence the ranking over the Warriors.
13. Righetti Warriors
Record: 11-7
Righetti faced plenty of strong competition at the Old Town Clovis Kiwanis tournament, including Buchanan and Clovis. Nearly all their losses came against teams ahead of them in these rankings. They do own a league victory over Arroyo Grande, as well as a comeback win over Sierra Pacific. 
14. Arroyo Grande Eagles
Record: 12-7
Arroyo Grande lost to Righetti by two, 45-43, so they can't be too far behind. The Eagles still have to play Nipomo twice, which could shuffle the bottom part of the rankings. 
15. Sierra Pacific Golden Bears
Record: 11-8
Sierra Pacific is one of two undefeated teams in the Tri-County Conference along with Immanuel. Makayla Carre is the leading scorer and rebounder (18.1 ppg, 12.4 rpg), aided by a special sophomore class featuring Mia Va'asili, Izabel Mendez, and Asia Jackson.
On the bubble: Sierra (17-2); Roosevelt (18-4); Tehachapi (16-1)