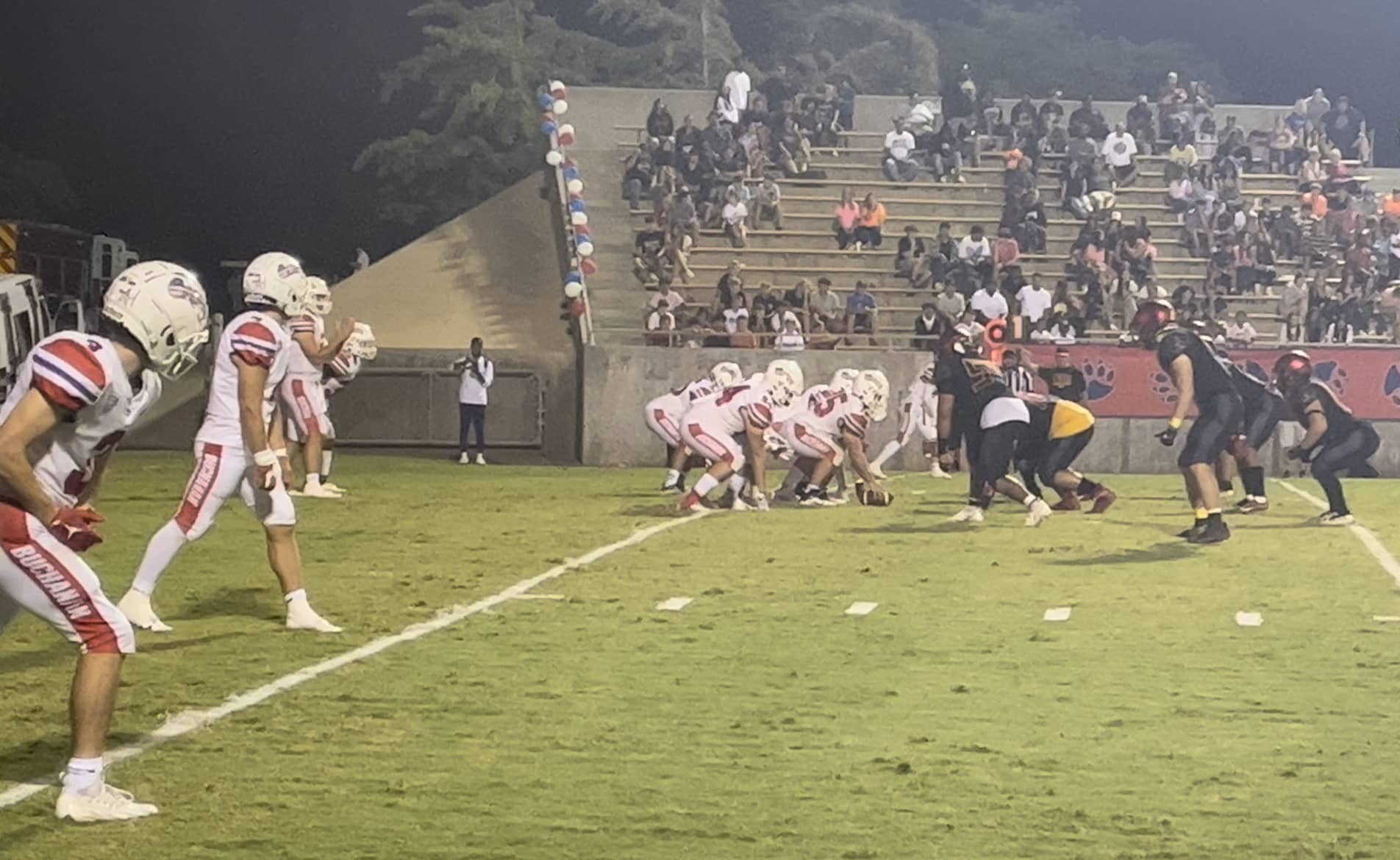 Clovis West and Buchanan battled in an instant classic at Lamonica Stadium, a 29-22 Golden Eagle victory that shook up Division 1
By Gabe Camarillo
By the end of this month, we will know the high school football playoff brackets. Through six games, I took a snapshot of what they look like right now.
The actual brackets come out on Saturday, October 29. Before we dive into projected brackets, here are some things to know:
1. These are NOT my rankings or brackets. These were pulled from CalPreps.com, and I applied the head-to-head and common opponent tiebreakers like the Central Section will do on 10/29.
2. Speaking of tiebreakers, here are the rules for them. If two teams are within two rating points of each other on CalPreps.com, the first tiebreaker is head-to-head result between them. The next tiebreaker, if both teams are in the same league, is finish in league standings. The final tiebreaker is record vs. common opponents. 
3. Every team has a base division. They can either play one division higher or lower than their base, depending on where they are ranked by CalPreps' computers. No higher and no lower.
4. I highlighted select teams in BOLD.  BOLD teams are currently 1-5 and need to win half their remaining games or they will miss playoffs. The minimum winning percentage to compete in playoffs is .300, or a record of 3-7.
5. One more interesting twist, something I learned last season — the CalPreps predicted score plays a factor into ratings, especially if the predicted winner loses.
** IMPORTANT NOTE: If there aren't enough qualified teams to fill Division 2 through 6 with 16 teams, D2 might have 12 teams with the top four receiving byes.
Updated as of 10/01/2022, 8:00 P.M. PST
Division 1:
1 Clovis West
2 Buchanan
3 San Joaquin Memorial
4 Liberty-Bakersfield
5 Central
6 St. Joseph
7 Clovis East
8 Centennial
9 Clovis
10 Garces
11 Clovis North
12  Redwood
Notes: Clovis West rockets to the top by beating Buchanan, and they hold common opponent tiebreaker over SJM and Liberty, since both teams lost to Buchanan… Garces needs to beat two of the following teams to make playoffs: Frontier, Bakersfield Christian, Centennial, and Stockdale… Hanford is rated higher than Redwood in CalPreps, but since Redwood beat Hanford, the Rangers jump into D1.
Division 2:
1 Central Valley Christian 
2 Kingsburg
3 Lemoore
4 Hanford
5 Bakersfield Christian
6 Ridgeview
7 Lompoc
8 Washington Union
9 Dinuba
10 Frontier
11 Bullard
12 Paso Robles
13 Golden West
14 Bakersfield
15 Tehachapi
16 Edison
Notes: Lemoore benefitted from Clovis West's win over Buchanan, making its loss to the Golden Eagles look even better… Hanford fell into D2 after its loss to Dinuba. Dinuba is more than two rating points below Hanford, so head-to-head doesn't come into effect… Ridgeview jumped 10 spots after its upset win over Frontier.
Division 3:
1 Mission Prep
2 Mission Oak
3 Santa Ynez
4 Porterville
5 Kerman
6 Sanger
7 Chavez
8 Kennedy
9 Arroyo Grande
10 San Luis Obispo
11 Sunnyside
12 Highland
13 Wasco
14 Righetti 
15 Tulare Western
16 Mt. Whitney
Notes: It stayed mostly the same in D3… Sunnyside jumped five spots after its win over Hoover… Highland jumped from D4 to D3 after it defeated Independence, which fell from D3 to D4 as a result… Tulare Union (base D2) is one spot away from making D3 playoffs, but they are right behind Mt. Whitney, which beat the Tribe in Week 1.
Division 4:
1 Liberty (Madera)
2 Torres
3 Caruthers
4 Taft
5 Garza
6 Independence
7 Madera
8 Reedley
9 North
10 Coalinga
11 Fowler
12 Strathmore
13 Templeton
14 Atascadero
15 Shafter 
16 Morro Bay
Notes: Taft climbed four spots with a win over Shafter… Madera was another big mover, largely because its strength of schedule raised with CMAC play… Templeton jumped from D5 to D4 as its record improved to 5-1 against Cabrillo… Shafter also jumped from D5 despite its loss to Taft.
Division 5:
1 Bishop
2 Dos Palos
3 McLane
4 Exeter
5 Monache
6 Corcoran
7 Immanuel
8 Arvin
9 Mendota 
10 Madera South
11 Delano
12 Pioneer Valley
13 Woodlake
14 Golden Valley
15 Santa Maria
16 Roosevelt*
* needs three wins in next four games
Notes: Monache dropped down from D4 after its loss to Golden West; they are among the teams needing two more wins for playoffs… Corcoran also fell from D4 despite its win over Lindsay… Golden Valley jumped from the top seed in D6 to D5 because of its win over Mira Monte… Roosevelt needs to beat three of these teams to make playoffs: Madera South, Hoover, Sanger West, and Fresno.
Division 6:
1 Chowchilla
2 Hanford West
3 Riverdale
4 Avenal
5 Cabrillo
6 Sierra Pacific
7 Firebaugh
8 Kern Valley
9 Boron
10 Farmersville
11 Orosi
12 Lindsay 
13 Foothill
14 Orange Cove
15 McFarland
16 Mira Monte
First two out: Tranquility (1-5); Yosemite (1-5)
Notes: Riverdale is rated lower than Avenal, but they won the head-to-head matchup, so they are seeded higher… Same goes for Farmersville, which beat Orosi… Kern Valley beat Mira Monte, which beat Boron. Therefore, despite being rated lower but within two points of Boron, Kern Valley is seeded higher.