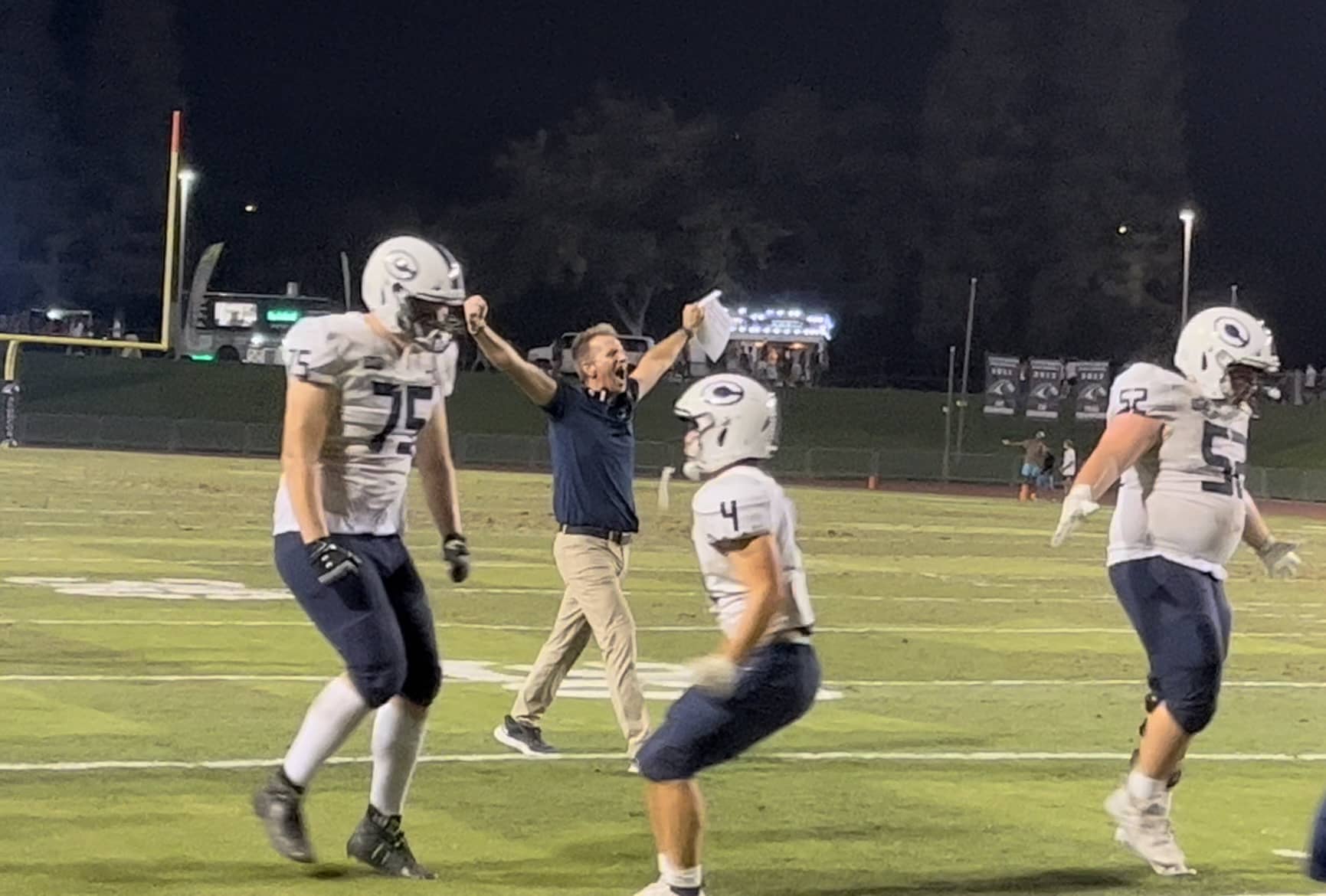 By Gabe Camarillo
Some teams are closing non-league play Friday, others are returning to action after a bye week, but exactly four teams – the top four in the updated Central Section Top 25, to be exact – will face each other with major Division-I playoff implications.
The Week 5 edition is here with some shuffling near the top of the rankings and the re-introduction of the Redwood Rangers. There are seven Top 25 matchups to look forward to:
No. 1 Buchanan at No. 3 San Joaquin Memorial
No. 2 Liberty at No. 4 Central
No. 20 Edison at No. 5 Clovis West
No. 23 Mission Oak at No. 6 CVC
No. 24 Redwood at No. 7 Hanford
No. 19 Bullard at No. 13 Clovis
No. 14 Clovis North at No. 18 Bakersfield
Check out all 25 teams below…
Buchanan (4-0) ⬆️ 1 
The Bears defeated former No. 1 Liberty of Bakersfield, 35-27, thereby taking the Patriots' spot atop the rankings. Jayden Mandal completed passes to seven different receivers and threw for 228 yards, but the run game also deserved recognition. Gus Remlinger and Michael Runnels scored from 50+ yards out, and Runnels rushed for 86 yards on 18 carries coming off injury.
Liberty (2-1) ⬇️ 1
The Patriots will always wonder what would've happened if the game wasn't called due to lightning. Junior quarterback Jace Nixon scored a one-yard touchdown right before the weather delay, and despite a blocked PAT, all momentum was for the Patriots. Liberty only dropped one spot because, as the score indicated, the gap was small between Buchanan and Liberty. 
San Joaquin Memorial (3-1) 
The Panthers' defense has played phenomenal football. The unit has allowed 10 or fewer points in three of its four games. Fresno State commit Brandon Ramirez ran for three touchdowns in a 28-6 Holy Bowl win over Garces. One of the best matchups of 2022 takes place at Panther Stadium this week when Buchanan and San Joaquin Memorial meet.  If they win, SJM is the de facto No. 1 seed in D-I playoffs, provided they win out in CMAC play.
Central (3-1) ⬆️ 1
The Grizzlies pulled off a comeback for the ages when they erased a 34-17 deficit to Bishop Diego with seven minutes left and won on the final play, 38-34. A successful onsides kick and Imari Conley forced fumble fueled the comeback. Dayton Tafoya passed for 335 yards and three touchdowns including the game-winner to Joshua Hill. This week, the "Road Warriors" have a huge opportunity to, well, stay off the road during November. Liberty comes to Koligian Stadium; a win would clinch a crucial head-to-head tiebreaker for playoff seeding.
Clovis West (4-0) ⬇️ 1
Clovis West has its best start in 16 years, but they fall one spot since Central defeated state-ranked opponent Bishop Diego, a huge win for the Grizzlies. No matter for Clovis West, which controls its own ranking and playoff fate as Buchanan and Central are on the schedule. Up first, though, is red-hot No. 20 Edison.
Central Valley Christian (4-0)
Central Valley Christian proved the doubters wrong and beat a TRAC opponent for the first time in school history. Its 23-9 defeat of Clovis North proved that CVC could handle all the competition it might face in D-II playoffs. The Cavaliers will meet another unbeaten this week, No. 23 Mission Oak, and its next biggest test is at No. 8 Kingsburg next month, a battle which will likely determine the No. 1 seed.
Hanford (4-0)
Opposing coaches have deemed Hanford as the best offense in the Central Valley. Honestly, are they wrong? Backup quarterback Daniel Gomez played great in a 49-47 win over No. 10 Frontier, and sophomore running backs Kourdey Glass and Albert Richardson have combined for 19 touchdowns this season. Upcoming opponent No. 24 Redwood upset the Bullpups last year, which makes for an enticing rematch Friday. 
Kingsburg (4-0) ⬆️ 2
The Vikings are on a bye week, so this is a good time to reflect on Kingsburg's dominance over the past four weeks – and four years. The Vikings are 39-7 since 2018, and they're off to a 4-0 start for the third time in four seasons. Head coach David Wilson keeps on winning. An emphatic 41-10 victory over Golden West pushed Kingsburg past St. Joseph and Frontier, both of whom lost.
St. Joseph (2-1) ⬇️ 1 
St. Joseph lost to a good opponent, Newbury Park, 31-21. As such, the Knights drop just one spot. There aren't many more opportunities for the Knights to add another signature win; games against No. 17 Lompoc and Mission Prep sit at the end of the schedule. Perhaps another Mountain League challenge can arise, but right now, the Knights are on the D1/D2 playoff bubble.
Frontier (3-1) ⬇️ 1
Frontier has a strong resumé with wins over No. 18 Bakersfield and No. 19 Bullard and a two-point loss to No. 7 Hanford. Given the problems Hanford faced against Frontier, the Titans earned respect from the Valley and only dropped one spot. Junior quarterback Malakhi Statler leads the Central Section in passing yards entering Week 5.
Clovis East (3-0) BYE
Clovis East took a break last week. They will finish non-league play against Tulare Union and unbeaten Kerman, and the Timberwolves will be favored in both games. The Timberwolves remain at No. 11, but it's still unclear who is the next best team outside the clear top three in the TRAC. 
Centennial (4-0) ⬆️ 3
The Golden Hawks, as predicted a couple of weeks ago, dispatched Independence and Ridgeview ahead of their next big test against Sanger. This game will be a nice gauge to measure Centennial against Clovis East and Clovis, both of whom beat Sanger. Junior Jaxton Santiago is tied for the Central Section touchdowns lead entering Week 5.
Clovis (2-2) ⬇️ 1
Clovis led Central Coast power and undefeated Salinas, 34-33, in the second half. Although they ultimately fell 50-34, it's not a bad loss for Clovis, so they remain ahead of Clovis North for at least another week. The Cougars lost to two good out-of-town teams, state-ranked No. 4 Long Beach Poly and state No. 37 Salinas. They face No. 19 Bullard at Lamonica, a game in which both teams need some momentum entering league play.
Clovis North (2-2) ⬇️ 1
The Broncos and Cougars are very close in the rankings. A road victory over No. 18 Bakersfield could push the Broncos ahead and give them two Top 25 wins. Plus, Clovis North's two losses are to Top 10 teams. Quarterback Mario Cosma and the offense are gaining confidence every week.
Garces (1-3) ⬇️ 1
It's a bye week for the Rams, who prepare for a stretch of four consecutive Top 25 opponents after they host Lincoln of San Diego – No. 2 Liberty, No. 10 Frontier, No. 25 Bakersfield Christian, and No. 12 Centennial. The silver lining to that schedule – there's a lot of potential to climb the rankings.
Lemoore (3-1) ⬆️ 2
The Tigers navigated a tricky non-league stretch of Washington Union, Clovis West, and Sanger, and they emerged with just one blemish. After a much-earned bye week, the Tigers will be home favorites against South. Senior Preston Scott is among the section's top 10 in touchdowns; he has scored eight total, five of them on kickoff and punt returns.
Lompoc (3-0) BYE
The Braves stayed at No. 17 during the bye week. Lemoore leaped them due to its 42-18 win over Sanger. Don't sleep on Lompoc and its high-powered offense, though, which begins league play against Arroyo Grande this week. 
Bakersfield (1-2) ⬆️ 1
The Drillers filled the win column against Stockdale last week, thanks to – guess who – Washington commit Tybo Rogers. He rushed for 168 yards on 10 carries and caught three passes for 53 yards. He added two touchdowns on the day. He'll face a sturdier Clovis North front seven, but the Drillers are a dangerous team with Tybo in the backfield.
Bullard (1-3) ⬇️ 3
The Knights and Golden Eagles were tied 7-7 at one point, but Clovis West left McLane Stadium with a hard-fought 28-14 victory. Bullard fell three spots with its 1-3 record, but in all fairness, those three losses came to Top 10 teams. Bullard faces a very similar team in Clovis; both are young teams with veteran defensive playmakers.
Edison (3-0) ⬆️ 1
The Tigers trounced El Diamante, 34-2. As much spotlight as the offense deserves, the defense has not allowed a touchdown in its last eight quarters. Anthony Jones collected 11 tackles, 3.5 tackles for loss, a sack, and two interceptions, one of them returned for a touchdown. Edison's D faces its toughest challenge of the season so far, No. 5 Clovis West. 
Washington Union (2-1) ⬇️ 1 BYE
The Panthers were on a bye last week but dropped a spot due to Edison's dominant win over El Diamante. Washington Union can make its own road statement as the Paul Holland-led Panthers travel to face the tough Dinuba Emperors. 
Reedley (3-0) ⬆️ 2
The Pirates won their first "home" game of the year – Reedley played at Orange Cove since their stadium was being renovated – and beat a team on the rise, Coalinga, 42-22. The turnaround is quick as Selma comes to Orange Cove Thursday, but the Pirates are well-positioned with their talent level and veteran leadership to win the Sequoia division of the Tri-County league.
Mission Oak (4-0) ⬆️ 2
Junior quarterback Daniel Gonzalez is lighting up the scoreboards; his 1,149 passing yards and 13 touchdowns are among the best for any passer in the section. Kenny Jackson, a three-star defensive back, is the section's second-leading receiver. Can the high-flying Hawks keep their groove going against the stout defense of No. 6 CVC? It's a fun matchup to follow Friday.
Redwood (2-2) NEW
Redwood returns to the Top 25 following its 30-7 win over Tulare Western. The Rangers love to play their hard-nosed brand of football, and that's what it will take to upset No. 7 Hanford again. Last year, Redwood successfully controlled time of possession and the defense stepped up to hold Hanford to its season-low in scoring. Both teams and coaching staffs are very familiar with each other, so this should be a close affair.
Bakersfield Christian (1-3) ⬇️ 3
The Eagles dropped three spots but remained in the Top 25 since their loss was against a Top 10 team in the state of Nevada. Following a bye week, Bakersfield Christian faces two explosive offenses, Tulare Western and No. 18 Bakersfield in the South Yosemite Valley League opener.
Dropped out: 
Mission Prep (1-2)
Next five up:
Liberty-Madera (4-0), Santa Ynez (3-0), Tehachapi (4-0), Kerman (4-0), Dinuba (2-2)