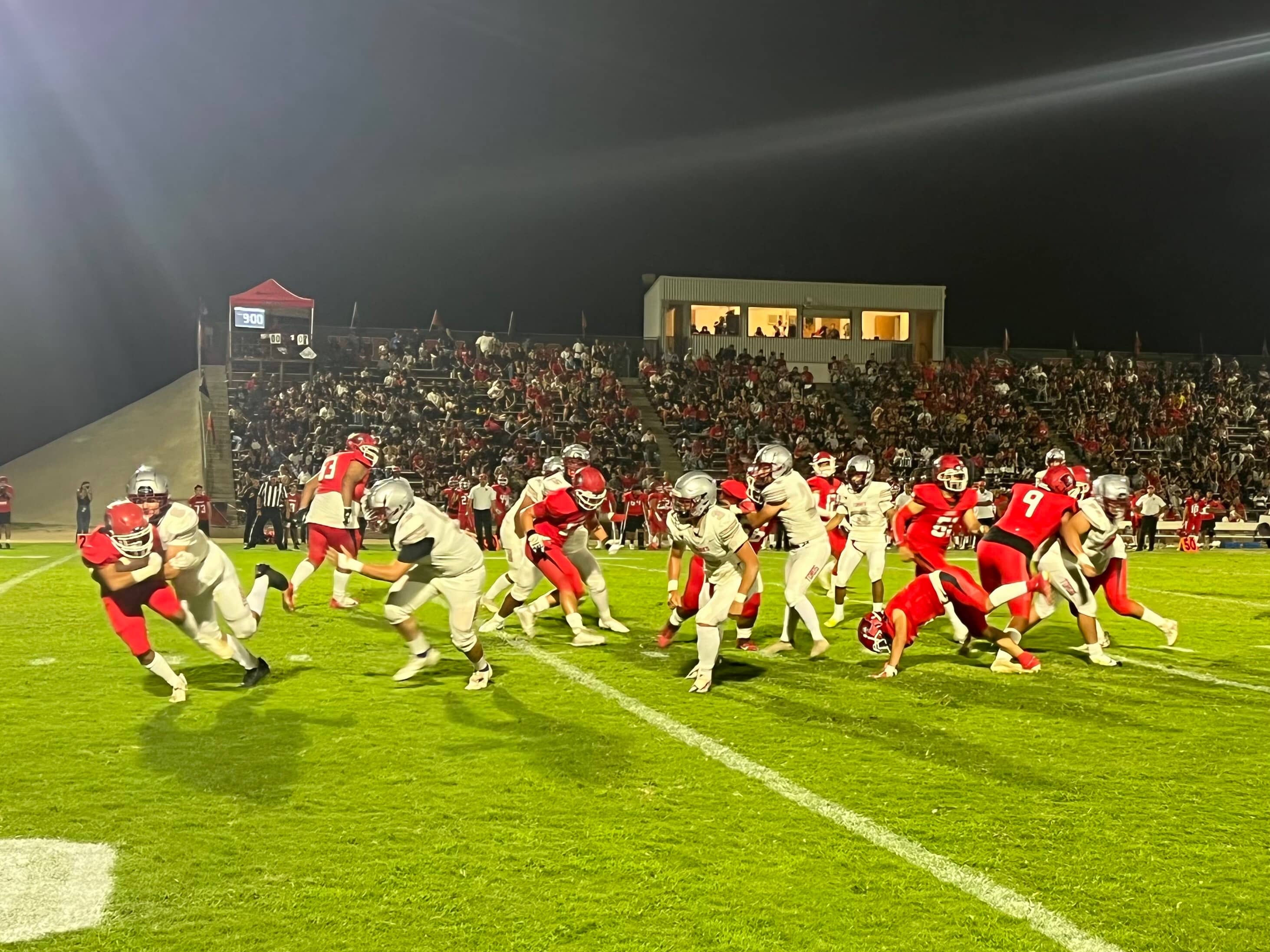 By Gabe Camarillo
Another week, another edition of high school football rankings in the Central Section – but I added a twist this time.
There are six TIERS within the Week 3 ESPN Fresno Top 25. 
Rankings can be misinterpreted if taken at face value. Anyone can easily say, "My team is ranked higher than yours, so mine is better than yours." However, rankings are more complex than that.
Take San Joaquin Memorial, for example. Initially perceived as too good for Division-II but not ready for Division-I, the formerly #4 ranked Panthers shattered expectations – including, admittedly, my own – and beat #2 Central with smashmouth football and superb special teams, 23-21. Now, SJM is in the conversation for the top spot in the top division. 
If we looked at the Central Section in tiers, we would have realized SJM over Central wasn't an "upset." Heck, head coach Anthony Goston said on my show Monday that it wasn't their biggest win in school history. It was Week 2, for goodness sakes!
No, SJM always belonged in the same tier with Buchanan, Central, and Co. They just finally proved it to the Valley with a gritty road win last Friday.
Without further ado, here are the updated Top 25 rankings, complete with six unique tiers:
TIER 1 – Division-I title contenders
Liberty Patriots, beat Ridgeview 35-0

San Joaquin Memorial Panthers (⬆️1), beat former #2 Central 23-21

Buchanan Bears (⬆️1), beat Escalon 41-40 OT

Clovis West Golden Eagles (⬆️1), beat Turlock 48-0

Central Grizzlies (⬇️3), lost to former #3 SJM 23-21
In years past, the shortlist was even shorter as Central dominated the regular season and won three straight D-I titles. But since 2019, parity has overtaken dominance. Five teams are now considered favorites to win D-I in 2022, with Clovis West joining the group as they've outscored opponents 90-0. 
Liberty has no reason to fall from #1 until one of two things happen – 1) they lose to Buchanan or Central; or 2) SJM beats Buchanan. The Patriots and Panthers have common opponents Buchanan, Central, and Garces scheduled in September, a huge help in determining whether Liberty or SJM should be ranked higher. 
Buchanan will be ranked above both teams if they beat Liberty and SJM in back-to-back weeks. Hypothetically, if Central beats Liberty a week after the Patriots beat the Bears, then Central should be ranked higher than both Liberty and Buchanan. However, that scenario would actually help SJM, and the Grizzlies cannot surpass the Panthers because of the head-to-head loss. 
The fact that Central-Liberty and Buchanan-SJM take place on the same night, September 16, is downright unfair. It's nights like that where I wish cloning myself was possible.
The wild card in this mix is Clovis West. The offense looks explosive with two capable quarterbacks, senior Ryan Markarian and junior Tyler Patrick, a deep cast of wide receivers, a reliable running game, and most importantly for the Golden Eagles' title hopes, stout defense.
If they keep this up and finish non-league play 5-0, the Golden Eagles have their "prove it" game against Buchanan on September 30. Win that, and Clovis West belongs in the top 4, which is important since those teams earn guaranteed first round byes in D-I playoffs. 
The reason for putting Clovis West above Central for now is that CW is playing very impressive football, albeit Central has faced stronger opponents. Clovis West does experience a rise in competition with an upcoming road game at Lemoore.
TIER 2 – Overachieving D2/D3 schools
Central Valley Christian Cavaliers

BASE DIVISION 3

, beat Mt. Whitney 44-0 

St. Joseph Knights (⬆️1)

BASE DIVISION 2

, beat former #10 Bakersfield Christian 38-7 

Hanford Bullpups (⬇️1)

BASE DIVISION 2

, beat Buhach Colony 66-21 

Kingsburg Vikings

BASE DIVISION 3

, beat former #22 Sunnyside 49-9 
These are base Division II and Division III teams who can hang with Division-I programs and beat the latter half of them but likely lose to Tier I teams. Central Valley Christian will exemplify this on Sept. 9 when they come into Veterans Memorial Stadium as road favorites against Clovis North, a game which Broncos head coach Michael Jacot said he wants his team fully healthy for.
Hanford already established itself in this tier by defeating traditional D-I school Bullard, 41-22. This group inspired me to create tiers in the first place – because I felt solely ranking them individually inaccurately depicted one team as better than the other. The gaps between teams 6-9 are so close, and Week 2 showed us exactly why.
All four won convincingly. Hanford scored 66 points, yet I still had to drop the Bullpups one spot because St. Joseph's Top 10 win was better. The only way I could reward Kingsburg for its smashmouth victory at Sunnyside was dropping Hanford further, which I could not justify because – again – Hanford scored 66 points.
CVC and Kingsburg are likely headed to D-II this year, which isn't as bad for overachieving small schools as last year since the D-I bracket expanded to 12 teams. On the flip side, the expanded D-I bracket makes it more likely that Hanford and St. Joseph will play there. 
The Bullpups and Knights would be slam dunk championship contenders in D-II, but both teams have three things going for them in D-I: a dynamic senior quarterback, big offensive and defensive linemen, and standout skill players. They also have strong coaching with Cannon Sanchez at Hanford and Pepe Villasenor at St. Joe's. 
Add that all together, and you have the recipe for success at any division.
Tier 3 – Rapidly improving squads
Lemoore Tigers (⬆️2)

BASE DIVISION 3

, beat former #19 Washington Union 56-35

Garces Memorial Rams

BASE DIVISION 2

, beat Paraclete (Lancaster) 41-7

Bullard Knights (⬆️2), beat #23 Tulare Western 53-7
Lemoore just missed out on the previous tier because they haven't tested themselves against D-I competition in recent years. That will change Friday against Clovis West. Win, and the Tigers skyrocket up the rankings.
Since head coach Rich Tuman took over in 2020, the program has charted a meteoric rise. The COVID season was a bitter pill to swallow for the then-young Tigers but playing all those freshmen and sophomores back then has paid off now. After a few down years, Lemoore enjoyed a resurgent season last fall, and now, they are in the D-II title hunt with Ty Chambers at quarterback and plenty of weapons at his disposal.
Garces and Bullard are both slated for D-I football, and they shook off tough Week 1 losses in emphatic fashion Week 2. The Rams scheduled the toughest slate of non-league games in the Central Section. It's not close with Los Alamitos (Top 10 in state), SJM, Bishop Diego, and Lincoln of San Diego (SDS D-I finalist last year). Garces will be battle-tested headed into Division-I this season.
As for Bullard, you can expect the Knights' offense to continually improve as the season progresses. A big test looms for sophomore quarterback Josh Madrigal when he plays his first road game at Frontier. After that, Bullard has more chances to chart its improvement against fellow D-I teams Clovis West and Clovis.
Tier 4 – TRAC, Part 2
Clovis North Broncos, beat Redwood 17-16

Clovis Cougars (⬆️1), beat former #21 Sanger 14-7

Clovis East Timberwolves (⬆️3), beat Atwater 52-21
The TRAC is more even now than it's been over the last three years, when the top three of Buchanan, Central, and Clovis were distinguishable. Either Buchanan or Central has won the TRAC since 2015, and Clovis fought both teams tooth and nail with a star-studded team in recent years. Buchanan and Central remain strong, and Clovis West appears to be the next best team, a young upstart looking to upset the status quo.
But the next three teams in the TRAC aren't that far behind. Clovis North and Clovis faced quality competition over Weeks 1 & 2 and went 1-1. Clovis East took care of business against Dinuba and Atwater and scored 100 points. A good measuring stick for Clovis East is its upcoming matchup at Tom Flores Stadium against Sanger, which just lost by a touchdown to Clovis.
Clovis North is ranked highest among the trio, but the Broncos are also the most banged up team right now. Clovis' win over Sanger was an important building block and confidence builder for freshman QB Deagan Rose and the young Cougars. And the T'Wolves pass the eye test with their blossoming playmakers. 
So, it's hard to order these teams before they meet in TRAC play. The best move is putting them all together inside the top 15 and watching how Clovis East fares against Sanger. If the T'Wolves win more convincingly over the common opponent, they may leapfrog the Cougars.
Tier 5 – High-powered Bakersfield offenses
Frontier Titans (⬆️1)

BASE DIVISION 2

, beat former #16 Bakersfield 27-24

Bakersfield Christian Eagles (⬇️7)

BASE DIVISION 3

, lost to former #8 St Joseph

Centennial Golden Hawks (NEW)

BASE DIVISION 2

, beat former #20 Redwood 28-21 and Arroyo Grande 39-7

Lompoc Braves (NEW)

BASE DIVISION 3

, beat Agoura 53-12 and Pioneer Valley 54-7

Bakersfield Drillers (⬇️4), lost to #17 Frontier 27-24
Putting together high school football rankings is like going through a maze. You better start down the right path or else you'll get lost somewhere in the middle. So, Centennial and Lompoc should've been on the rankings before, but the pair of big wins last week assured them a spot. I'm no longer lost in the middle.
Although Lompoc isn't from Bakersfield but the Central Coast, the Braves deserve recognition alongside the others for their high-octane attack. Senior Cavin Ross has a perfect QB rating through two games and thrown 11 touchdowns. The CalPreps computers love Lompoc, and I'm high on these Braves, too. I'm interested in how they fare against Mission Prep and St. Joseph in October.
Frontier, Bakersfield Christian, and Centennial all have QBs who can sling it – Malakhi Statler, Jordan Delgado, and Max Copus, respectively, are some of the best arms in the 661. Bakersfield Christian fell from the Top 10, but a home game against CVC has opportunity written all over it. 
Frontier can break into the D-I conversation with upcoming tilts against Bullard and Hanford, and Centennial could be 4-0 when they face Top 25 opponent Sanger. The new Southwest Yosemite River League looks compelling with a clear top four of Liberty, Garces, Frontier and Centennial. 
Then, there is the curious case of Bakersfield, perhaps the most talented 0-2 team out there. I heard whispers during the offseason that Tybo Rogers would spend more time at wide receiver in addition to running back. Turns out, those rumors were true. His highlight tape from the Frontier win, in which Rogers had 7 catches for 100 receiving yards, two touchdowns, 36 rushing yards, and four tackles at safety, featured Rogers as a wideout. 
Rogers took over that second half against Frontier and nearly led the Drillers to a comeback. More games like that from Rogers, and Bakersfield is not a team anyone wants to face in a single-elimination setting.
TIER 6: D2/D3 title sleeper picks
Washington Union Panthers (⬇️2)

BASE DIVISION 3

, lost to former #12 Lemoore 56-35

Reedley Pirates (NEW)

BASE DIVISION 4

, beat Firebaugh 34-12 and Roosevelt 26-16

Sanger Apache (⬇️2)

BASE DIVISION 2

, lost to former #15 Clovis 14-7

Mission Prep Royals

BASE DIVISION 4

, BYE

Edison Tigers, BYE
The last five in the Top 25 are teams I could see making a run in Division-II and Division-III. I already hear the Jim Moras in the crowd – "Playoffs? You're talking about playoffs??" – but that's how highly I think of these teams.
Washington Union hit a speed bump with Lemoore, but I expect the Panthers to bounce back at Torres this week. A lot of attention is paid toward CVC-Kingsburg on Oct. 14, but two weeks before then, Washington Union-Kingsburg is going to be a very good matchup to open Tri-County play.
I couldn't leave Reedley out of the Top 25 after an impressive comeback against a good Roosevelt team. They are a sleeper pick in the Tri-County Sequoia division thanks to a sturdy offensive line and the exploits of standout senior Khalil Yalong. Don't forget three-year varsity QB Jacob Rocha, who has the Pirates pointed in the right direction.
Sanger only drops two spots and receives another chance at TRAC competition with Clovis East in town. The Apaches have won the last two installments of the rivalry. Lastly, Mission Prep and Edison don't move since they did not play last week. Edison is a base Division-I school with aspirations of making the 12-team D1 bracket, but to do so, they need to climb 20 spots in the CalPreps rankings. The whole season is ahead for head coach Mike Stamps' men to do that.