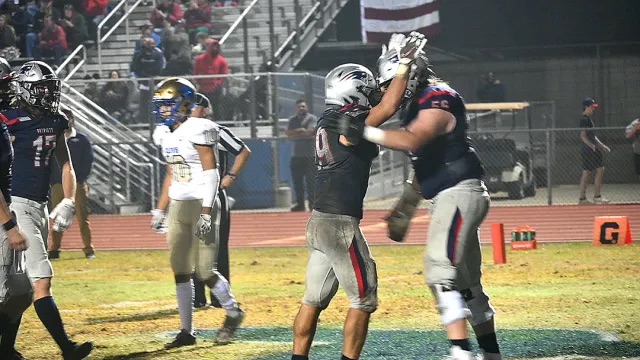 Liberty RB Jalen Hankins
By Gabe Camarillo
The 2022 Central Section high school football season is upon us!
Liberty High School in Bakersfield, the defending Division-I football champion, sits atop the initial ESPN Central Section Football Top 25. However, this might be the most even football landscape seen in the Central Section in quite some time.
Liberty boasts physicality on both lines. Central returns multiple skill players on both sides of the football. San Joaquin Memorial is very well-rounded with depth and talent at every position. Buchanan has a future Fresno State Bulldog at quarterback and reloaded defense.  Bakersfield, after heating up late in 2021, looks to ride its momentum — and standout running back — into 2022.
There are emerging TRAC schools. Clovis West is a year older and better, and Clovis North mixes an experienced transfer quarterback with another stout Bronco defense. Central Valley Christian will turn heads with nearly everyone back from last year's D-III championship team.  St. Joseph might be the sleeper pick to win it all in 2022, guided by a humongous offensive line, gifted returning quarterback, and experience at the skill positions.
Hanford returns multiple pieces from its high-flying offensive attack last year. Garces loses its starting quarterback and several contributors from last season but the Rams' defense will again be stingy. Similarly, Bullard loses a lot on offense but retains key defensive players from a year ago and adds reinforcements on that front. Kingsburg's problem of having two outstanding quarterbacks is a good one to have, and the Vikings bring back their leading rusher and receiver, too.
Clovis and Frontier have similar situations to each other, replacing big graduating classes with a blend of returners and young up-and-comers. Mission Prep is a remarkable story on the Central Coast, going from 8-man football a few years ago to winning a Division-II playoff game. The Royals could be even better in 2022. And Redwood is the favorite to win the revamped East Yosemite League.
Bakersfield Christian replaces its star quarterback but keeps his wide receiver brother and several more offensive weapons along with defensive power up front. Lemoore is led by one of the best dual-threat quarterbacks in the Valley. Washington Union has college-level talent to help bring a new starting quarterback along. Clovis East continues to rebrand — not rebuild — around its sensational sophomore QB, emerging skill players, and hard-hitting defense.
Dinuba reloads the highest-scoring offense in Tulare County last year and takes on a physical identity. Tulare Western will hurt you through the air with the golden arm of their returning quarterback. Sunnyside's crop of shining sophomores will try to defend their North Yosemite League title. And rounding out the top 25, Edison is looking for a return to excellence, led by a cerebral senior quarterback and dynamic young athletes.
Who are the names to watch on the Top 25 football teams in the Central Section? Read below for the complete Top 25, key departures and returners, and how each team finished up 2021.
Also, fair warning — there are PLENTY more great athletes and stories on all 25 teams than those listed below, and even more on the teams not named. Good luck to all Central Section football teams as Friday Night Lights loom 10 days away!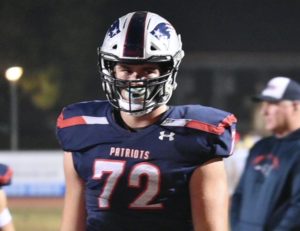 1. Liberty High (Bakersfield) Patriots
Last year/result: 11-3, CIFCS Division-I champions
Key departures: CB/WR Jason Oliver, QB Carson Woods, S Luke Wattenbarger
Key returners: DL/OL Grant Buckey, RB Jalen Hankins, CB/WR Kresean Kizzy, DL/OL Cade Gretlein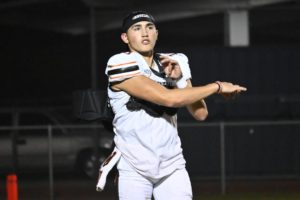 2. Central High (Fresno) Grizzlies
Last year: 9-2, CIFCS Division-I runner up
Key departures: RBs Jesiah Lindsey & Ah'Marion Gaines-Smith, DE Jeremiah Shelton, OT Tanner Hirschler
Key returners: QB Dayton Tafoya, CB/RB Imari Conley, WRs Landanian Streets & Braylen Hall, S/WR Kaleb Tennison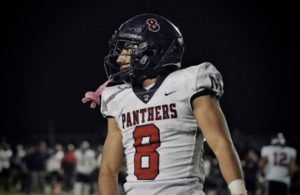 3. San Joaquin Memorial (Fresno) Panthers
Last year: 9-1, lost in CIFCS Division-I semifinal
Key departures: CB/WR TJ Hall Jr, QB Mikey Bell, LB Gavin Zuniga
Key returners: RB/S Brandon Ramirez, CB/WR Donovan Harris, DL Marquise Jones, QB Carson Dean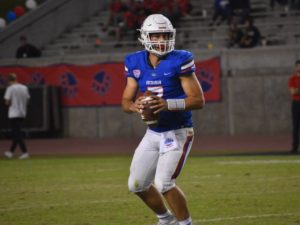 4. Buchanan (Clovis) Bears
Last year: 10-2, CIFCS Division-I semifinal
Key departures: RB/LB Caden Rodgers, WR/LB Josiah Ayon, S Jerry Rangel
Key returners: QB Jayden Mandal, RB Michael Runnels, LB Logan Studt, DL Roman Fries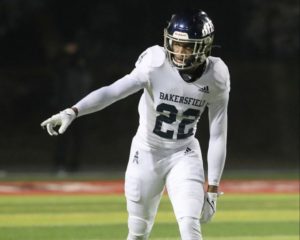 5. Bakersfield High Drillers
Last year: 6-6, CIFCS Division-II runner up
Key departures: WR/CB Daylon Leach, LB Jayden Dock, LB/TE Alex Rocha
Key returners: RB Tybo Rogers, QB Tye Monteiro, DE/TE Anthony Rivera, LB/RB Drahcir Mackey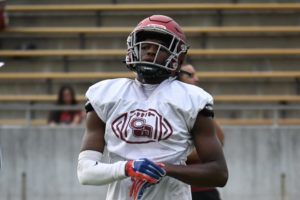 6. Clovis West Golden Eagles
Last year: 4-8, lost in CIFCS Division-II quarterfinal
Key departures: S Bryan Villa, CB/KR Trey Carr, RB D'Ante Benjamin
Key returners: LB Tytus Khajavi, WR/CB Marshel Sanders, QBs Tyler Patrick & Ryan Markarian, WRs Landon Wright & Jordan Pierro
7. Clovis North Broncos
Last year: 5-6, lost in CIFCS Division-I quarterfinal
Key departures: RB/DE Paul Sharp, OL/DL Adam Gerena, OL Aron Garcia
Key returners: FS/WR Vincent Cordoba, RB/LB McKay Madsen, CB/WR Rashid Mansour
Key addition: Mario Cosma (Roosevelt/Bullard)
8. Central Valley Christian (Visalia) Cavaliers
Last year: 11-5, CIFCS Division-III champions
Key departures: RB/LB Josh Sousa, RB Dominic Maxfield, DE/LB Levi DeJong
Key returners: QB Max Bakker, DE/TE Jaeden Moore, DE/TE Zach Zwart, OL/DL Chase Womack
9. St. Joseph (Santa Maria) Knights
Last year: 6-5, lost in CIFCS Division-II quarterfinal
Key departures: WR Travis Royal, LB Erick Santillan, DE Gage Mussell
Key returners: G/NG Erwin Taomi, QB Darian Mensah, G/DT Makai Sat, WR Collin Fasse
10. Hanford Bullpups
Last year: 7-2, lost in CIFCS Division-I quarterfinal
Key departures: WR/S Noah Noyola, DL Trace Gonzales, LB Devin Collins
Key returners: QB Cayden Muir, WR Jayden Sudds, LB Brak Hill, RB Kourdey Glass
11. Garces Memorial (Bakersfield) Rams
Last year: 6-4, lost in CIFCS Division-I quarterfinal
Key departures: QB Travis Plugge, RB/LB Ian Jernagin, LB Logan Bowers
Key returners: S/WR Julian Smith, LB Jalani Smith, OL/DL Davis May
12. Bullard (Fresno) Knights
Last year: 9-5, CIFCS D-II champions
Key departures: QB Roland Russo, WR/CB Jayden Davis, WR Jalyn Utendahl
Key returners: RB/LB Nick Stubblefield, DE/TE Kyle Hughes, S Eddie Torres, WR Wendell Ware
Key addition: Elijah Eason (Edison)
13. Kingsburg Vikings
Last year: 10-3, lost in CIFCS D-II semifinal
Key departures: LB/RB Chase Dias, DE Gavin Gonzales, LB Matthew Clifton
Key returners: RB/LB Trace Jackson, WR Conner McFall, QBs Ethan Winslow & Max Warkentin
14. Clovis High Cougars
Last year: 7-4, lost in CIFCS D-I quarterfinal
Key departures: QB Nate Johnson, RB Tristan Risley, CB/WR Carlos Mack
Key returners: LB Noah Luginbill, DE/TE Tovie Martin, CB/WR Jaden Carrillo
Key addition: Freshman QB Deagan Rose
15. Mission Prep (San Luis Obispo) Royals
Last year: 10-1, lost in CIFCS D-II quarterfinal
Key departures: RB/DB Jack Susank, DB Caden Elmerick, OL/DL Caleb Alalem, OL Jadon Broyles
Key returners: OT RJ Esmon, QB Colby White, LB Mario Luera, TE/DE Tyler Garrett, RB/DB Drew Harrigan
16. Redwood (Visalia) Rangers
Last year: 4-6, lost in CIFCS D-II Round of 16
Key departures: RB Karson Everett, WR Ashton Ibarra, TE Kolby Howard
Key returners: QB Francisco Alvarez, LB Noe Viveros, LB Evan Gonzalez, DE Kai Preisendorf
17. Frontier (Bakersfield) Titans
Last year: 6-3, lost in CIFCS D-II semifinal
Key departures: QB Vincent Igoa, RB Daniel Overton, LB PJ Athie
Key returners: FS John Appleton, LB James Moon, WR/SS Devin Cockren
18. Bakersfield Christian Eagles
Last year: 10-4, lost in CIFCS D-III runner up
Key departures: QB Braden Waterman, CB/OLB Braden Heath, DT Ben Bidart
Key returners: WR Bryson Waterman, RB/DB Nathan Perez, WR/CB Dylan Johnson, DL Bo Carr, QB Jordan Delgado
19. Lemoore Tigers
Last year: 8-3, lost in CIFCS D-II Round 16
Key departures: RB Cory Whitmore, LB D'Marcus Watson, LB Jose Nino
Key returners: QB Ty Chambers, WR Andrew Moench, NG/T Isaiah Morales
20. Washington Union (Fresno) Panthers
Last year: 7-4, lost in CIFCS D-III semifinal
Key departures: QB Lawrence Stell, WR Nathaniel Williams, LB Keanu Kuma
Key returners: S WIlliam Fowler, WR Noah Taylor, LBs Ryan Brown and Kado Felder
21. Clovis East Timberwolves
Last year: 4-5, lost in CIFCS D-II Round 16
Key departures: WR Maddox Merlo, RB/LB Devin Lopez, DB Mariano Williams
Key returners: QB Ty Miller, RB Lamaj Travis, LB/TE Rocky Koontz, WR/DB Xavier Garcia
22. Dinuba High Emporers
Last year: 8-5, lost in CIFCS D-III semifinal
Key departures: QB Casimiro Barragan, WR Mikey Olivera, RB Sebastian Olivera
Key returners: RB Hector Gonzalez, OL Adrian Garcia, LB Isaac Sandoval
23. Tulare Western Mustangs
Last year: 6-4, lost in CIFCS D-II Round 16
Key departures: RB Damian Bello, WR Andrew Maciel, CB Jayson Hernandez
Key returners: QB Carmine Ficher, WR Carson Lopes, WR Ben Leon
24. Sunnyside (Fresno) Wildcats
Last year: 8-2, lost in CIFCS D-III Round 16
Key departures: WR Dae'Shaun Bias, RB Jesse Armstrong, DL/OL Alex Rodriguez
Key returners: QB Tanner Wilson, WR CJ Jones, WR Malachi Barnes
25. Edison (Fresno) Tigers
Last year: 2-7, lost in CIFCS D-III Round of 16
Key departures: WR Tyrece Fairly, WR/CB Charles Bailey, RBs Rasheed Norman and Myles Lee
Key returners: QB Ya'J Vance, DE/LT Nick Ball, DB/RB John Eubanks, ATHs Dezjour Malone & Rashad Perry
On the bubble: Sanger, Righetti (Santa Maria), Mission Oak (Tulare), Lompoc, Santa Ynez