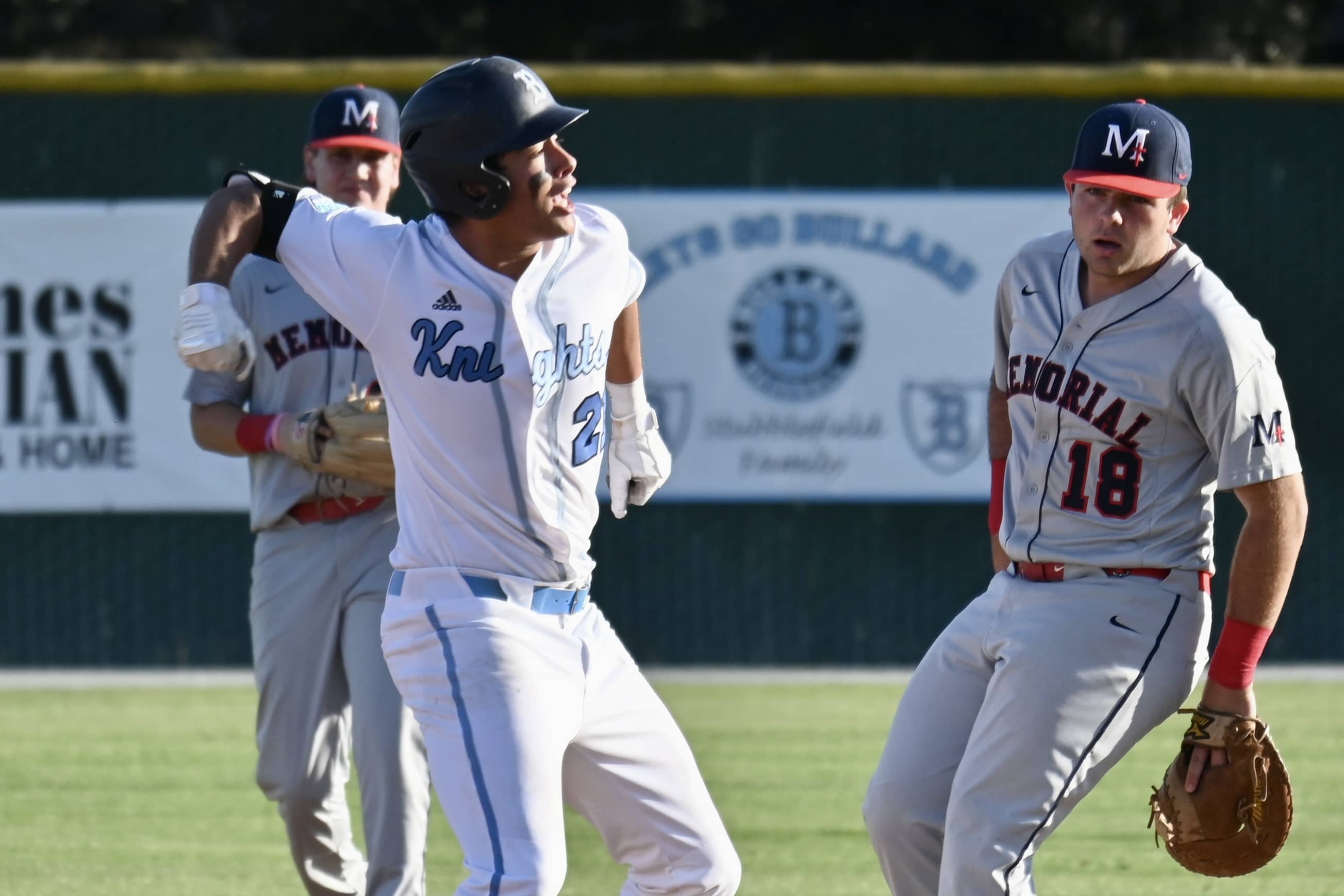 By Gabe Camarillo
gcamarillo@1430espnfresno.com
There is one week left in the regular season, and San Joaquin Memorial and Bullard are playing for all the marbles in the County-Metro Athletic Conference. 
Forgive me if you heard that one before. 
The Panthers and Knights will fight for CMAC supremacy for the second straight season. If you remember how feisty the 2021 series was, and if you saw the fireworks at the first SJM-Bullard game this season, then you know how real the rivalry is.
It's fun when the teams don't like each other. It's more fun when the teams don't like each other… and they are both really good.
The two-game series not only determines the CMAC title, but those games hold major playoff seeding implications. Bullard can lock up at least the No. 3 seed with two wins over SJM. Their head-to-head tiebreaker over Clovis West comes in nicely there, as they would avoid a rematch with No. 1 Buchanan in the semifinal. A potential semifinal trip to No. 2 Stockdale isn't any better, but the Knights could hope for an unexpected Stockdale loss this week to jump them.
The team that stands to gain the most from two wins this week is San Joaquin Memorial. Currently the No. 7 seed, the Panthers would travel to Stockdale in the first round if the season ended today. But SJM could catapult into the top 4 – and a first-round home game – with two wins over Bullard. 
No. 4 Clovis West benefits from that, too, as they have two head-to-head wins over SJM and a loss to Bullard.
Other quick bites before we dive into the rankings:
Buchanan controls its own destiny in the Tri-River Athletic Conference thanks to a series win over Clovis West last week. The Bears hold a one-game lead over the Golden Eagles with three to play against Clovis North.
Stockdale clinched its fifth Southwest Yosemite League in six seasons with a 10-0 shutout vs. Liberty of Bakersfield.
Righetti clinched the Mountain League despite losing two of three to Templeton. The MaxPreps computers still like the Warriors; they are currently the No. 5 seed, ahead of Liberty of Bakersfield and San Joaquin Memorial.
Kerman could clinch an outright North Sequoia League for the 11th straight season if they beat Liberty-Madera Ranchos. The Hawks will test the Lions, coming in at 21-5 and 11-3 in NSL play. 
Kingsburg just keeps on winning. The Vikings have won 12 of their last 13 games, including a 5-2 win over Central Valley Christian on Cinco de Mayo.  That win gave Kingsburg the Central Sequoia League championship for the first time since 2009.
Camarillo Top 20:
1. Buchanan (22-4, 10-2 TRAC)
Buchanan earned the series win over Clovis West last Friday, 5-1, behind a 2-for-4, 2 RBI day from Cal State Bakersfield-bound slugger Max Bernal and six strong innings from Utah Valley signee Austin Watson. The senior right-hander has posted an 8-0 record and 1.68 ERA. Strong candidate for TRAC Pitcher of the Year.
2. Stockdale (21-4, 12-1 SWYL)
The Mustangs dropped their first league game to Liberty of Bakersfield, but they moved up and remained ahead of Bullard because of their 10-0 rout two days later. Stockdale will benefit from the Thursday-Tuesday-Saturday format of Division-I playoffs as they only need to throw two studs on the mound – junior Oregon commit Ryan Featherston and senior UC Santa Barbara signee Austin Charles.
3. Bullard (23-4, 12-1 CMAC)
Bullard won two games over Sanger, 10-2 and 7-1. Stockdale and Bullard have two common opponents: Liberty of Bakersfield and Frontier. Bullard beat Liberty, and Stockdale took two of three against Liberty. Bullard split against Frontier, whom Stockdale swept. The Knights and Mustangs look even on paper – both have D-1 college guys all over the field, although Stockdale's guys are older – and if they meet in the playoffs, sparks will fly. Bullard just hopes that matchup is at Mike Noakes.
4. Clovis West (19-7, 9-3 TRAC)
The Golden Eagles beat No. 1 Buchanan in Game 2 of their series and loaded the bases in the 4th inning of Game 3, down just a run. Watson escaped the jam and the Bears tacked on three runs the next inning to put the game out of reach. Still, three competitive games against the top team in the Central Section means the Golden Eagles stay in the top four.
5. San Joaquin Memorial (21-5, 11-2 CMAC)
The Panthers have not lost in over a month. Their 12-game winning streak extended last week with two victories over Madera South, 6-3 and 16-6. The last time they dropped a contest was April 1st… at Bullard. 
6. Liberty-Bakersfield (18-8-1, 10-3 SWYL)
 Liberty pulled off an impressive win against Stockdale on the road, 3-1, but that wasn't enough to bump them up as they dropped the next game, 10-0, and lost to San Luis Obispo, 6-4.
7. Kerman (26-0, 13-0 North Sequoia)
Righetti fell hard in the rankings after two losses to middle-of-the-pack Templeton in the Mountain League, so Kerman moved up one and took their spot. Two games against Liberty Madera-Ranchos are all that separates the Lions from an undefeated regular season. Kerman took down Yosemite last week, 4-0 and 10-2, as Dominic Puentes and Ayden Olivares each recorded two RBIs in the second game.
8. Bakersfield Christian (21-5, 12-1 SYL)
Hello, Eagles! Like the Lions ahead of them, the Eagles are a base D-III team, so the highest they can play is D-II playoffs. But Bakersfield Christian deserved a bump up two spots for taking two of three against Ridgeview, a series capped by a 16-2 shellacking by the Eagles. Sophomore TCU commit Mason Brassfield earned the win on the mound, drove in three RBIs, and shined in the blowout. Him and Oregon commit Toby Twist form a dynamic duo that can hit and pitch with the best of them.
9. Frontier (14-12, 8-5 SWYL)
The biggest jump in these rankings belonged to Frontier, which leaped four spots into the top 10. Frontier and Clovis split their regular season matchups, but the Titans sit slightly ahead of the Cougars in the MaxPreps computer rankings. Moreover, Frontier and San Luis Obispo are tied in ratings points, and both are contending for the No. 8 seed in the D-I playoffs. The Titans' bats were hot as they outslugged Bakersfield, 10-6 and 13-2. Add in their two talented arms in senior lefty Hudson Barrett and freshman Brady Durkan, and the Titans have the resume and look of a sleeper. 
10. Clovis (15-11, 6-6 TRAC)
The Cougars dropped the series to Clovis East and fell one spot back but remained in the top 10. Up next is a traditional rivalry but tough matchup against Clovis West. 
11. Central (12-12-1, 4-8 TRAC) 
The Grizzlies are red-hot following its win over No.1 Buchanan and subsequent sweep of a gritty Clovis North squad. Central moved up a spot but remained behind Clovis due to the Cougars' series win. 
12. Ridgeview (23-3, 11-2 SYL)
The Wolfpack evened the season series with Bakersfield Christian last Wednesday behind a complete game shutout from junior Bradley Perez, 1-0. The subsequent 14-run defeat two days later dropped them a spot.
13. Righetti (22-3, 12-3 Mountain)
The Warriors fell six spots for dropping a series to Templeton. 
14. Kingsburg (21-4-1, 9-1 Central Sequoia)
The newly crowned Central Sequoia League champions stayed put where they were last week. Sophomore Houston Hirsckorn batted 3-for-4 with an RBI in last Tuesday's 7-1 win over Dinuba.
15.  Clovis East (12-14, 4-8 TRAC)
Clovis East earned a big series win over Clovis High, sealed by Carson Sandoval's walk-off sacrifice fly in Game 3. The T'Wolves picked up their second series win of TRAC play. On tap is another competitive TRAC series against Central, three games that should carry D-II playoff seeding implications.
16. San Luis Obispo (14-8, 9-7 Mountain)
San Luis Obispo shook off its 7-2 loss to an 8-17 St. Joseph team by topping Liberty of Bakersfield, 6-4. Hey, baseball is baseball. The Tigers showed their potential with the win over the Patriots. If they get past two games against Arroyo Grande unscathed, San Luis Obispo might sneak into the D-I field as the No. 8 seed.
17. Arroyo Grande (18-9, 10-6 Mountain)
On the bubble last week, the Eagles reappeared in the Top 20 following their sweep of Paso Robles.
18. Reedley (21-5, 12-1 NYL)
The Pirates piled up more wins. Last week, they blanked McLane 11-0 in back-to-back games. They can clinch the North Yosemite League with two wins over Sunnyside or a win and Fresno loss.
19. Fresno (21-4-1, 11-2 NYL)
The Warriors mirrored the Pirates as they have done for the last few weeks, taking both games against Roosevelt, 21-0 and 15-1. Fresno High needs help from Sunnyside to have a chance at splitting the NYL title. Fresno finishes the regular season this week with two games against Hoover.
20. Clovis North (10-15-1, 3-9 TRAC)
The Broncos fell three spots after getting swept by the Central Grizzlies. Up next is No. 1 Buchanan.
On The Bubble: Redwood, Dos Palos, Liberty-Madera, Sierra Pacific, Pioneer Valley