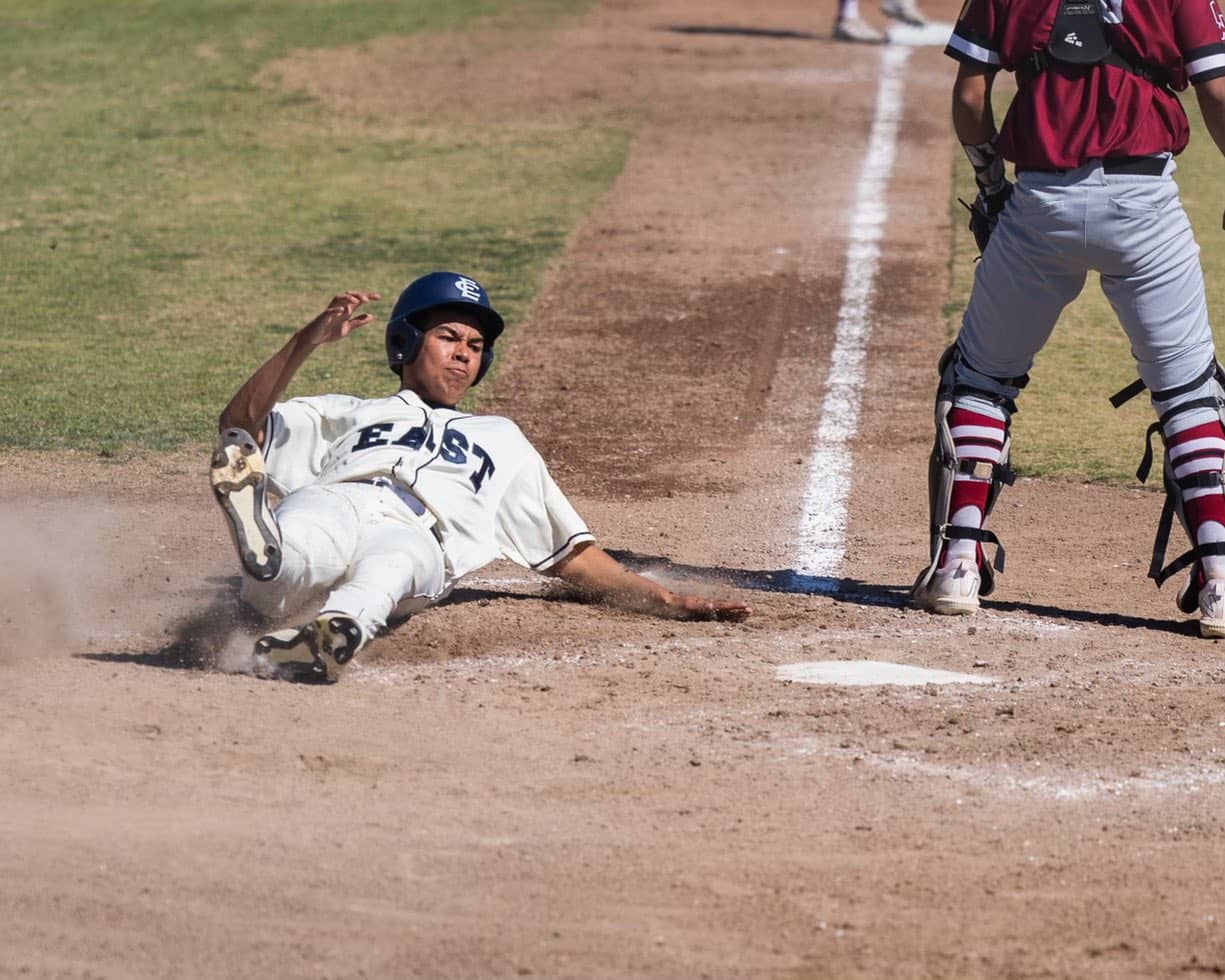 Clovis East picked up a series win over Clovis North with big performances from Brennan Johnson (5/11, two doubles), Jacob Crain (6/14 at plate and complete game win on the mound), and Paul Martinez (4/10 and two go-ahead RBIs).
By Gabe Camarillo
gcamarillo@1430espnfresno.com
Personal news – I am less than four weeks away from graduating at Fresno State.
I don't know how many of you following my high school coverage know that you've been reading the work of a college student. So, if you ever found a spelling and/or grammar mistake, I suggest you blame it on that.
That said, my classes have taken most of my focus over the past week, but not all of it. Of course I kept an eye on high school baseball results around the Central Section. San Joaquin Memorial and Bullard took care of business against Sanger and Madera, respectively. As long as those two CMAC powers keep winning, their games on May 10th and 13th will be big, big, BIG.
In the TRAC, Buchanan swept Clovis High, but the Cougars bounced back from a Game 1 blowout to make the next two games of the series competitive. Clovis West swept Central; the Golden Eagles have been scorching hot ever since they boarded the vans to Sacramento for the Scott Boras Classic. Clovis East took two of three from Clovis North, punctuated by a 16-2 rout in the rubber match.
I noticed a trend while doing research for my rankings – most of my initial Top 20 teams kept on winning. Kerman took two from Chowchilla, Ridgeview outscored Golden Valley by a combined 33-2 in two wins, and Righetti has won FIVE games since I last released rankings on April 15. One of the Warriors' wins came yesterday against Arroyo Grande, 10-0, the same team that defeated Clovis High. Maybe Righetti is legit; after all, they are 19-1 and the MaxPreps computers love them at No. 2 in the Central Section.
I can go on and on, but I know you're curious where I have Righetti – or your favorite team – in my fresh-out-of-the-stove Camarillo Top 20. If I don't hurry up with these, the Tuesday games will have already teed off…
1. Buchanan (18-2, 6-0 TRAC)
2. Clovis West (15-5, 5-1 TRAC)
3. Stockdale (18-3, 9-0 SWYL)
4. Bullard (19-4, 8-1 CMAC)
5. Liberty-Bakersfield (16-5-1, 8-1 SWYL)
6. San Joaquin Memorial (17-5, 7-2 CMAC)
7. Righetti (19-1, 9-1 Mountain)
8. Clovis (12-8, 3-3 TRAC)
9. Kerman (22-0, 9-0 North Sequoia)
10. Bakersfield Christian (18-4, 9-0 SYL)
11. Ridgeview (20-2, 8-1 SYL)
12. Clovis East (10-10, 2-4 TRAC)
13. Central (8-10-1, 0-6 TRAC)
14. Frontier (11-11, 5-4 SWYL)
15. Kingsburg (17-4-1, 6-1 Central Sequoia)
16. Clovis North (9-10-1, 2-4 TRAC)
17. Arroyo Grande (15-7, 7-4 Mountain)
18. San Luis Obispo (12-7, 8-6 Mountain)
19. Reedley (17-5, 8-1 NYL)
20. Fresno (17-4-1, 7-2 NYL)
Biggest riser: Clovis East (up six spots)
New entry: San Luis Obispo
Dropped out: Centennial-Bakersfield
On the bubble: Centennial, Liberty-Madera, Hanford, Dos Palos, Taft, Redwood